Drilling into 3D printing: Gimmick, revolution or spooks' nightmare?
Top prof sorts the hype from the science for El Reg
---
Another irrational side of 3D printing: Brownie points for being green
In his utopian environmentalist tract The Hydrogen Economy (2002) and his more recent The Third Industrial Revolution (2011), Jeremy Rifkin, always a taproot for Democratic Party fantasies about the future, looked forward to a homesteader America – one where every dwelling stored, generated and shared its own renewable energy. In a fresh delusion, Rifkin contends that 3D printing doesn't just lower product costs and barriers to entry for aspiring manufacturers, but also lowers the use of materials and energy – oh yes, and democratises manufacturing, too.
To be charitable, perhaps the omnipotence, epochal and especially the democratic character invested in 3D printing is really just an exaggeration of the idea that tools normally reserved for The Experts have now become available to all with an interest in them. Yet in fact 3D is not available to everyone who is interested, just like PCs are not available to everyone. We already know how only the moneyed classes are able to win green brownie points through the design of their environmentally friendly homes; as environmentalist pursuit, 3D printing promises to have an equally restricted audience.
In fact, facile interpretations of 3D printing as "good for the environment" are quite widespread. They are facile because any serious spread of 3D printers would likely face… environmentalist objections. If run at anything like full tilt, 3D printers could all too easily be stigmatised as depleting raw materials, making more hateful "stuff", and functioning as a danger to life and limb.
Grounds for fear: What's spooked US spooks?
With all the magic properties conferred upon 3D printing, it would be odd if nobody had a problem with it. And that's just the point: for all their innocuous qualities, 3D printing, robots and advanced fabrication techniques prompt a great deal of worry.
Foreign Affairs is the organ of the US foreign-policy establishment, and in the first place, the State Department. So when Neil Gershenfeld, head of MIT's Center for Bits and Atoms, published How to make almost anything: the digital fabrication revolution in that august journal in November 2012, what he had to say about 3D printing was worthy of attention.
He began with some commendable good sense about the phenomenon: "Other computer-controlled tools can produce parts faster, or with finer features, or that are larger, lighter, or stronger. Glowing articles about 3D printers read like the stories in the 1950s that proclaimed that microwave ovens were the future of cooking. Microwaves are convenient, but they don't replace the rest of the kitchen."
Gershenfeld then wrote about the establishment, in 2003, of the world's first "fabrication laboratory", or fab lab, which was bought as a kit consisting of a laser, 3D printer, small milling machines (total: $50,000) and clever materials (total: $20,000). However, he concluded his article in alarming style, arguing that "digital fabrication could be used to produce weapons of individual destruction'. "When I have briefed rooms of intelligence analysts or military leaders on digital fabrication," he went on in a somewhat rueful vein, "some of them have invariably concluded that the technology must be restricted."
In fact, Gershenfeld saw a role for digital fabrication not so much in the making of guns and arms generally, as in education, and in offering "at-risk youth" a social service. However, the military types with whom Gershenfeld mixes fear 3D printing and techniques adjacent to it.
That much became clear, too, with the December 2012 publication of the US National Intelligence Council's report Global Trends 2030: Alternative Worlds. This report held that 3D printing could "make more low- and semiskilled manufacturing workers in developed economies redundant, exacerbating domestic inequalities". At the same time, the report worried that 3D printing in Asia could increase both that continent's manufacturing capabilities, and its manufacturing competitiveness. Intelligence authorities in the US, therefore, seem to believe that their country is damned to suffer social problems if it does adopt 3D printing, and damned to suffer imports of 3D-printed products from Asia if it doesn't. How awful is that?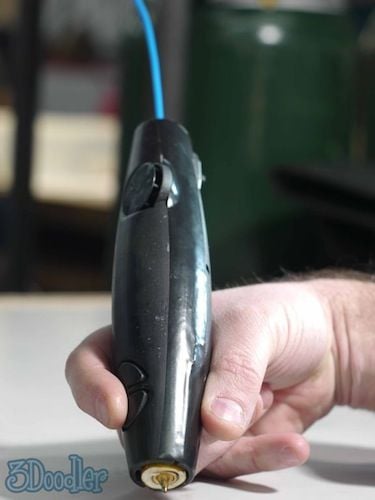 Handheld additive manufacturing: the Doodler Pen
Whether its worry is about 3D-printed guns, 3D-printed drones or 3D-printed civilian products exported from Asia, the US establishment has already given the lie to fairytales about 3D printing as a whole new democratising ballgame. Like any product, the 3D printer embodies conflictual social relations, and is no panacea.