Amazon boss salvages Apollo engines from watery grave
Bezos bags historic rockets from 3 miles down
---
Amazon boss Jeff Bezos and his deep-sea salvage crew have successfully raised enough wreckage from the seabed off Florida to rebuild two of the massive F-1 rocket engines that once powered NASA's Apollo missions.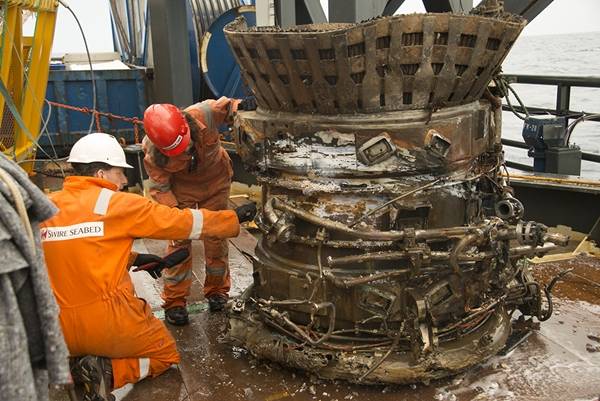 A fixer-upper in mechanical terms
"We found so much," Bezos said in a blog post. "We've seen an underwater wonderland – an incredible sculpture garden of twisted F-1 engines that tells the story of a fiery and violent end, one that serves testament to the Apollo program. We photographed many beautiful objects in situ and have now recovered many prime pieces."
The team used sonar to find the engines, which plummeted into the sea at around 5,000 mph nearly 50 years ago, and then a team of remote operated vehicles working 14,000 feet below the ocean surface identified the motors and scattered wreckage for collection. Bezos is now steaming for Cape Canaveral to drop off the precious rockets for rebuilding and eventual display.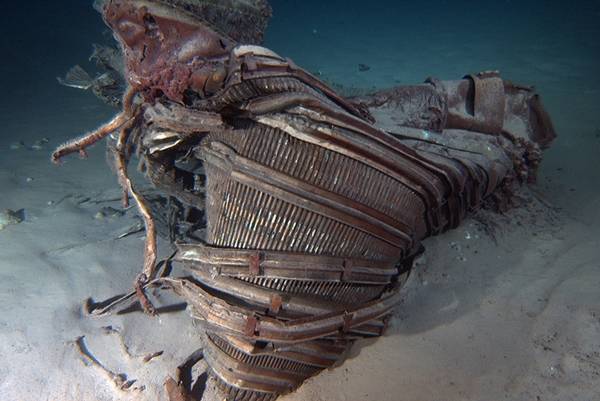 The nozzle from the most powerful rocket ever lofted
Bezos announced plans to salvage the rockets from the Apollo 11 mission a year ago, but is being very careful before deciding if he's got the right boosters. The decades of immersion have made the serial numbers on the F-1 engines hard to read or illegible, and further study is needed to see if they are from the Apollo 11 mission itself, or from one of the other Saturn V rocket launches.
The 18.5ft by 12.2ft rockets are the most powerful ever built and formed the first stage of the Saturn launch system. Each of the five engines fired for just 165 seconds but lifted the rocket 67 miles up into the atmosphere before detaching and falling back into the sea. Based on photos and video from the site they survived the impact and subsequent submersion rather well.
Although the rockets are still technically the property of NASA the salvage attempt has been a privately-funded operation sponsored by Bezos and his chums. Elon Musk will certainly be interested in them, since he's currently working on even bigger boosters for the Falcon Heavy rocket that could make its first flight this year. ®
Similar topics
Narrower topics