Budget Day 2013 Chancellor of the Exchequer George Osborne "levelled" with the British public today by admitting that the economy remains in the toilet as he slashed growth estimates.
"We've got to go on making difficult decisions so that Britain can live within its means," he told Parliament.
But his grim statement to the House revealed that the economy under the Tory chancellor's tenure had failed to recover in the way Osborne had hoped. In 2011, during his first Budget Statement, he had forecast growth this year to reach 2 per cent. In his Autumn Statement in 2012, that figure was revised down to 1.2 per cent.
Today growth was halved.
The Office for Budget Responsibility revealed that the forecast for growth this year was set at 0.6 per cent, which the chancellor said was "less than we would have liked". The OBR predicted that growth would hit 1.8 per cent in 2014, 2.3 per cent in 2015, 2.7 per cent in 2016 and 2.8 per cent in 2017.
Osborne blamed the Eurozone crisis and the previous Labour government for much of the economy's woes.
He had begun his statement in the Commons by saying that his budget was "for people who aspire to work hard and get on. It's a budget for people who realise there are no easy answers for what went wrong over so many years."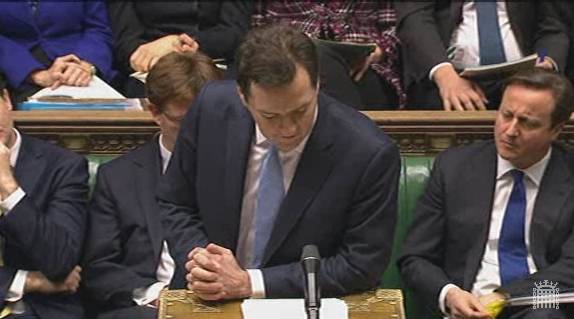 'Aspiration nation' prays for unicorns
But he confessed that it was "taking longer than anyone hoped" to fix the economy. Indeed, the Tory-led Coalition has now passed its midterm point and many might argue that the government hasn't gone far enough. Others have called for Osborne, who has stuck stubbornly to his script despite widespread criticism, to quit his chancellorship.
He said national debt would rise to 85 per cent of GDP and wouldn't fall until at least 2017/18. Osborne estimated that the deficit would drop from 11.2 per cent of GDP in 2009/10 to 7.4 per cent this year.
"This is a budget that doesn't duck our nation's problems, it confronts them head on," he told a packed House of raucous MPs.
Osbo: 'Information superfast highway is what we need to dig us out of ditch'
The chancellor said that the Treasury's coffers were already apparently "giving Britain the fastest broadband and telephony in Europe." The Register is not sure where he got his figures from but can only presume that the favourable Ofcom report from earlier this month is the only thing Osborne has actually seen - which very much suggests that the souping up of broadband pipes in Blighty is going swimmingly.
Whitehall's piggybank was again raided overnight, when Number 11 ordered central government to find another £3bn in savings to help "stimulate growth" with the government sinking yet more cash into infrastructure projects. But no extra capital has been allocated to broadband. The focus this time is on roads and rail.
Osborne was greeted by laughter when he said:
By investing in the arteries we will get growth flowing to every part of the country.
In late 2011, the chancellor said he would take £100m from the £5bn national infrastructure investment pot over the course of this Parliament to boost broadband network speeds in selected areas.
He followed that up with another £50m chucked at 10 smaller cities so they could receive faster broadband access in his budget statement in March last year. That cash was later extended to two more cities without extra funding from the Treasury.
And, despite Virgin Media's last-minute lobbying of Osborne earlier this week, the chancellor offered no promises about dropping a pile of money on training small businesses to make better use of the internet. Nor will he divert any of the existing £150m for the urban broadband pot into helping SMBs become better equipped online.
While Osbo did describe the global business world as an "internet economy", he didn't actually mention the word "digital" once during his statement, which can be viewed here. ®