Budget Day 2013 Chancellor of the Exchequer George Osborne has joined the swelled ranks of politicos and media bods on Twitter today, ahead of his Budget Statement at lunchtime - which is expected to be one of the bleakest in years.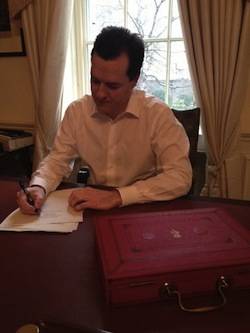 'This is what they call a selfie, right?'
The Register suspects that Osbo is too busy with his abacus today to post anything himself on the site. But a tweet did appear this morning, likely courtesy of his Tory party underlings.
"Today I'll present a Budget that tackles the economy's problems head on helping those who want to work hard & get on," he was quoted as saying.
The tweet was also accompanied by a photo of Osbo looking important and business-like with his red case, tie-less shirt, paperwork and pen.
The Chancellor had more than 20,000 followers on Twitter at time of writing.
We doubt the Number 11 occupant will be tweeting his Budget Statement from the Commons Chamber, but perhaps his team will be on hand to send out favourable messages about the state of the economy. Which would probably mean the official Twitter account will remain pretty barren today.
Inevitably, Osbo's debut on the micro-blogging site led immediately to the Chancellor facing a barrage of abuse from ANGRY PEOPLE ON THE INTERNET. ®