This article is more than 1 year old
Another MYSTERY evacuation: Google UK empties swanky offices
Gather round kids, no nipping off for a pint
Picture Googlers have been chucked out of their central London office behind Tottenham Court Road station for the second time in about a month. There's no word yet on the reason for the latest evacuation, during which the entire plush building - home to various tech and media companies - was cleared out.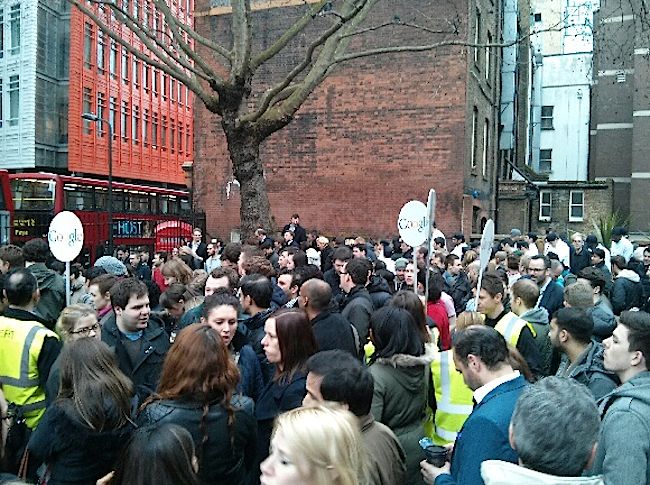 Go on give us a Google wave. Oh, sorry.
The Chocolate Factory's Oompa-Loompas can be seen milling around near St Giles high street in the above pic, snapped earlier today by a Reg source, with little Google signs to make sure they don't wander off.
The Googlers spent about 20 minutes outside at the time the shot was taken just before lunchtime. Workers in the swanky office block hadn't been told of a fire drill nor given any other reason for the second building-wide evacuation in the last few weeks, so it's probably either some sort of Machiavellian Apple plot or some sort of group Google-love team-bonding thing.
Google's Lego-like building can be seen in the top left of the pic and you can take a peek at its soft, scatter-cushion-rich insides here. ®