This article is more than 1 year old
Whatever happened to telepresence? From $2.5m deals to free iPad apps
It's the tech that made Microsoft feel the love for open standards
Feature Cast your mind back nearly 10 years and high-end videoconferencing with its eye-watering price was being touted as the substitute for the corporate jet. At the time, having remote video streams to view your conference room was a big deal that involved an awful lot of looking after and a continuous investment each month for the privilege along with line leasing.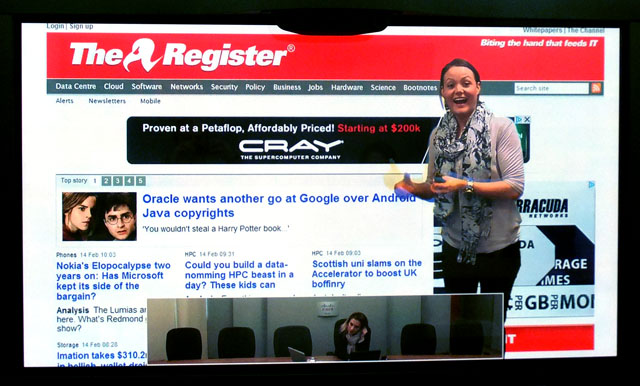 TelePresence Cisco style: some green-screen trickery can make a big impression
Raising the game in 2006, Cisco branded its 1080p videoconferencing offering as TelePresence. In its endeavour to provide a state-of-the-art experience, the product was so mightily expensive - at up to $500k per room - that corporate jet didn't seem so pricey after all.
But times have changed and anyone with a half-decent smartphone from the last two years or so will have an HD video streaming capability. BYOD has increased the proliferation of this functionality in corporate environments and the holy grail of unified communications actually appears to be manifesting as a reality, rather than a mere sales pitch.
What appears to be driving this integration is a fight for survival an epiphany of sorts. As you'll see from the remarks below from Cisco, Polycom, Radvision (Avaya) and others, working on playing nice with each other is the only way they can reassure the market to adopt their products and associated infrastructure.
Another key player is Microsoft and, surprisingly for a company with such a long history in proprietary products, its recent introduction of Lync 2013 plays a significant role in this integration. Steve Tassell, Microsoft's Unified Communications Product Manager, has observed a different mood in the industry.
Open office
"I've been in UC for the last four years," says Tassell, "and probably the biggest change that I've seen is everyone talks about open standards. They have done for a long time but I think we're just starting to get to the point now where there's probably now a more 'genuine' approach to open standards now than perhaps in the past, because you've now got a few key players that have to work together.
"Customers don't want to have the problem of how to make two things work together. They'll say, 'You guys work that out and come to me when you've got a solution.' Then, that's what we have to do, that's what we're doing. So yeah, UC is starting to feel like more of a reality than perhaps a few years ago."
Indeed, as far as software goes, Microsoft looks as if it could eventually own the Unified Communications space having changed its old habits and embraced HTML5 with Lync 2013 and supporting multiple platforms, but more on its volte face later. What about those boardroom broadcasters? Are there still customers out there for these high-end products. It's a market that Ian Vickerage, founder of video conferencing distributor Imago, knows very well.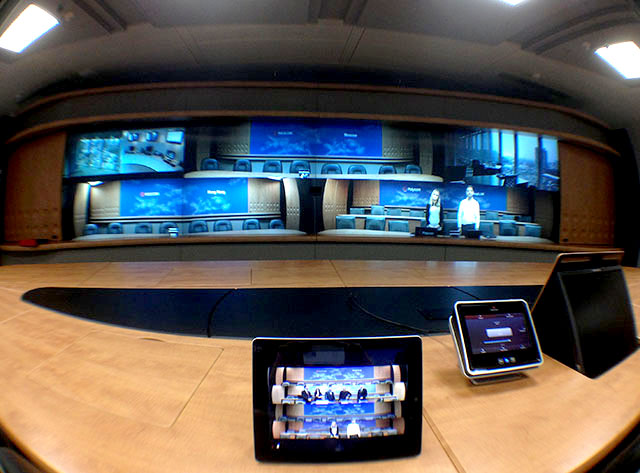 Polycom's RealPresence Immersive: everything right down to the chairs is specified in this environment
"A couple of years ago, we saw a lot of big companies coming out saying we want to implement big systems, room systems, plus a lot of mobile users. And then they got the quote. They were expecting $250,000 and got a quote asking for $2.5m. And the really upsetting thing about it was, they didn't get angry, they just laughed. 'Hah, is this some kind of a joke?' But it wasn't a joke, because there's this hidden infrastructure cost that's not being talked about."
That kind of response from potential clients has galvanised minds. Recent technological developments have delivered alternative approaches to the conventional infrastructure and, in turn, costing models have changed as these innovations demonstrate a competitive edge. This has also helped drive the growth of desktop video in the corporate environment and Vickerage has noticed those potential customers from a couple of years ago are showing interest again, as these systems become more affordable.