Whatever happened to telepresence? From $2.5m deals to free iPad apps
It's the tech that made Microsoft feel the love for open standards
Collaboration culture
All clever stuff and endorsed by Google too, as it uses Vidyo tech for its Plus and Hangout services. As the traditional market leaders develop even better interoperability along with the emergence of cloud solutions – to provide ways to offset the typically scary costs of high capacity ownership – telepresence is gaining ground for use in smaller room systems and on the desktop.
While Cisco and Polycom aren't going to write off those high-end telepresence suites just yet, Gartner predicts 200 million desktops will be video-enabled by 2015 and this is being driven by unified communications reach going beyond Instant Messaging and Presence (availability) but into telephony and telepresence. As aging PBX systems are replaced with IP phone offerings from the likes of Avaya, Cisco and Polycom, the video option becomes a consideration, as Microsoft's Steve Tassell affirms.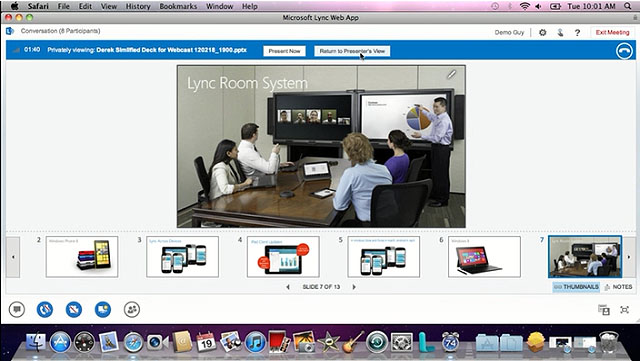 Microsoft Lync 2013 out of web access is designed to give the same meeting experience as its dedicated apps
"UC goes through bouts and phases and video seems to be the one people are focusing on at the moment. Certainly it's one that's important to us, because of the acquisition of Skype. We see that as a really important part of the business to develop for both for consumers and for commercial businesses as well. We always wanted to make videoconferencing cost-effective – to be able to roll out to the whole organisation – because if you can't, what's the point in having it? It shouldn't be just a boardroom. You should be able to carry it around and connect to anyone that way, and that's where we think it's going."
So it's in the boardroom, on the desktop and anywhere you happen to be on a mobile device. This is undoubtedly unifying but it's also confusing. Imago's Ian Vickerage sells this stuff and even he finds it a challenge.
"It's been redefined many times and nobody knows what telepresence is any more. Originally, it was TelePresence - capital T and P, that's how you knew it was Cisco. That expanded in definition, so now Polycom refers to all of its high end systems as telepresence which are nothing like $1/2m, more like $10k. Vidyo talks about 'personal telepresence' – that is on your iPad, so you're now dealing with a different beast. So we're in a kind of no-man's land, nobody is quite sure what the definition is any more – it doesn't help."
And depending on who you talk to, Unified Communications means different things too, but with all the major players bringing video conferencing capabilities to iOS and Android devices, the notion is evidently: have camera, will chat. Yet this brings with it a whole new array of challenges.
These corporate communications behemoths are having to deliver the same ease of use found on consumer platforms such as Skype and FaceTime, otherwise the apps they develop simply won't get used. While this is not so much a workers' revolt, there are certainly user experience expectations regarding the level of friendly functionality that should be available.
Bye-bye Silverlight, hello world
And if you need evidence of this, then take a look at the Microsoft Lync 2013 keynote. Here, Derek Burney Corporate VP for Lync Engineering demonstrates video communications on Microsoft apps for Windows 8 Mobile (31:43), Android (36:51), iPhone (38:52), iPad (40:40) and bringing up the rear, Windows 8 (43:20). Yet it's ironic that after a seamless and impressive demo, it was Windows 8 that brought it to a standstill at 46mins 55secs with it declaring stubbornly that the microphone was in use. Lucky then that Lync 2013 functions with so many alternative platforms including web access and, if you're keen, the latest Lync 2013 app for Windows 8 Mobile has arrived and is available for iPhone and iPad too.
According to Steve Tassell, the Android version will take another month or so to appear and Lync 2013 doesn't complicate matters by insisting on Silverlight either. Adobe has yet to cotton on though, as its Connect web conferencing platform, still relies on Flash on desktops.
The upshot of all this, is that the exclusive domain of boardroom telepresence is now being joined by remote workers on iPads – the preferred mobile choice because of its screen size – along with desktop video and laptops. So much for that insistence on quality that was the driving force behind those pioneering bespoke telepresence suites.
While the quality varies depending on even the simplest factors, such as lighting, it's no surprise that mobile devices are used and, typically, this video gets upscaled when viewed on larger systems. Depending on who you're dealing with, there is an associated hit on infrastructure, as these devices still need a port on traditional video bridging gear.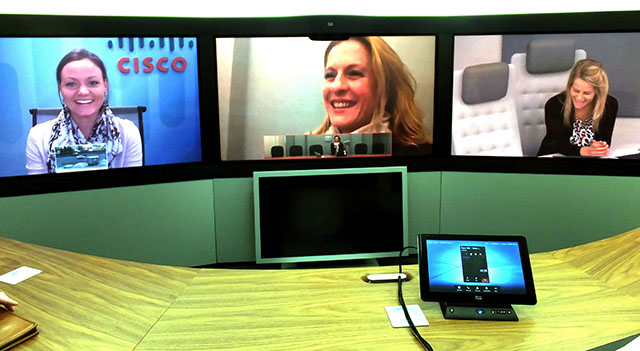 Cisco TelePresence suite: left image Cisco EX desktop series, centre image sent from an iPad, right image from Cisco MX series
Despite staying in the H.264 AVC camp, Cisco is able to accommodate popular devices and has a burgeoning portfolio of iOS apps, among them clients for Cisco Jabber (that supports one-to-one video communication) and WebEx Meetings for multipoint video conferencing and screen sharing. Indeed, from a software standpoint Cisco's Unified Communications offerings bear many parallels with Microsoft's Lync. The problem for Cisco is that Lync is being included as a feature of Office volume license agreements and it's an uphill struggle to shift that installed user base to a whole new ecosystem.
Again, the issue is about delivering integration that can ease minds focused on new deployments, as Steve Beckley, Director of Technical Marketing at Cisco highlights.
"We have a full integration with Lync 2010, there are two flavours of that. There's a native integration which is non-HD, but you've got to go to the proprietary protocol to get HD in Lync 2010. If you want that, the way we do that is through a piece of infrastructure which is called the Advanced Media Gateway. It makes it a little more expensive and slightly harder to scale."