The head of Apple's Australian operations, Tony King, has told an Australian Parliamentary inquiry into information technology pricing that rights holders of music and filmed entertainment have an "old fashioned" attitude to retailing.
Australia is running the inquiry to figure out why locals often pay more for software, digital content and hardware. Apple products often cost more in Australian dollars than in US dollars, despite Australia's currency being worth $US1.04 at the time of writing. Songs on iTunes Australia often cost $AUD1.69. The same track is usually $US0.99.
"A song is an asset, a piece of intellectual property," King said when asked to explain why Australians pay more for music and movies. "The rights associated with that song may change from territory to territory" and in Australia the rights holders charge more. King said he believes, based on retail prices, that rights holders charge digital and physical retailers about the same fees to resell music and filmed content. He also insisted Apple does not have more negotiating muscle with local rights holders and that its market share does not give it leverage to drive local prices down to a level comparable with lower prices offered elsewhere on the planet.
King then offered the interesting observation that "In this digital age the content industry still runs with old fashioned notions of country borders, or territories, or markets." Rights holders' insistence on pricing differently in each market, he said, is the reason digital content costs more in Australia than elsewhere.
"The consequence is we need to set up iTunes stores around the world," King said. "That'ss the nature of the industry in which iTunes exists.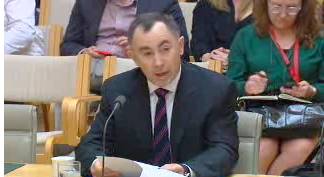 Apple Australia's Tony King appears before Inquiry into IT Pricing
Pressed on why those costs are higher in Australia, King said the inquiry should ask rights holders directly, and not just their industry associations.
King's also said that Apple wants lower content prices and tries to achieve global parity pricing for its own software. In Australia last week, he said, software prices were one per cent lower than US software prices.
On hardware, he said prices are set based on exchange rates at the time of launch. Price adjustment for week-in, week-out, exchange rates is not feasible and would confuse consumers, he said. It's also important to note, he told the committee, that $US prices don't include local sales taxes, while prices in Australia must include the 10 per cent goods and services tax.
King did, however, say "We hold the price until we transition or update the product". That means a product released before a favourable exchange rate fluctuation will remain at a price far higher than should be the case.
Even with those factors in place, he said, Apple's analysis of its prices shows that last week Australian prices are only up to five per cent higher in Australia than the USA.
Asked why Apple has not yet appeared before the inquiry, King said "It is rare Apple makes a public appearance to discuss public policy matters."
Adobe and Microsoft will appear before the inquiry later today. ®