This article is more than 1 year old
Apple: Our data centers are green. The other 98% of what we do ...
Foxconn keeps churning out smog like there's no tomorrow
After a vigorous campaign by Greenpeace to highlight the carbon-spewing computer halls of the cloud giants, Apple has announced it is feeding its data centers entirely with renewable energy.
Apple's flagship Maiden, North Carolina data center is now supplied by 100 per cent renewable energy, with 42 million kWh coming from an on-site solar array, and the rest from biogas stored in nearby fuel cells.
Its other existing and under-construction data centers are all running, or due to run, off 100 per cent renewable energy sources as well, according to an update made to the company's website this week.
Apple's next planned data center in Reno, Nevada will use geothermal energy – a source of power that tends to be more efficient than solar panels and has been test-piloted by Icelandic data center startup Verne Global.
But the figures are somewhat disingenuous: any data center provider will have backup generators in case of a problem and these tend to be diesel-fueled. Also, Apple will almost certainly have the ability to provision power from local utilities, which in places like North Carolina tend to sell coal-derived electricity.
All told, the renewable energy used throughout Apple has gone from 35 per cent in 2010 to 75 per cent by the end of 2012, the company wrote.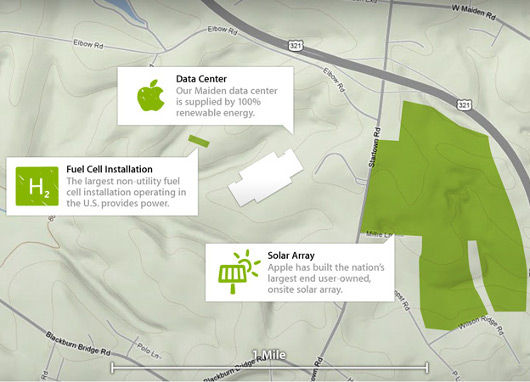 Heroically located via Apple Maps (Image: Apple)
The announcement mollified environmental pressure group Greenpeace, which published a 'How Green Is Your Cloud Report' in April 2012 to name and shame polluting cloud providers.
Its report lambasted Apple, Microsoft, and Amazon for their green efforts (or lack of), and lauded Yahoo!, Google and Facebook for trying to deal with their data centers' environmental impact.
"Apple's announcement shows that it has made real progress in its commitment to lead the way to a clean energy future. Apple's increased level of disclosure about its energy sources helps customers know that their iCloud will be powered by clean energy sources, not coal," Greenpeace said in a statement emailed to The Register.

"As it keeps growing the cloud, Apple still has major roadblocks to meeting its 100 per cent clean energy commitment in North Carolina, where renewable energy policies are under siege and electric utility Duke Energy is intent on blocking wind and solar energy from entering the grid."
At the time of writing Amazon and Facebook had not responded to requests for further information from The Register, while Microsoft and Google were unable to provide specific statements relating to their own data centers' use of on-site renewables.
"In 2012, we sourced 30% renewable energy and plan to continue to increase that amount each year until we're at 100%. Our goal for 2013 is to achieve a minimum of 35 per cent," Rackspace told us via email, before pointing to its involvement in Facebook's commodity hardware 'Open Compute' scheme as another way it was picking up its Scout badge for tree-huggery.
In The Register's experience, Amazon tends to disclose very little about its data centers, and Microsoft will give figures that appear good but are impossible to compare with other providers.
Google, and Facebook, are much more open about their facilities' power use, but this is because much of their technological clout comes from intricate software systems built on top of commodity hardware.
For Amazon, disclosing details about its data centers would make it too easy for competitors to work out how large its AWS cloud can be, and also the margins it can earn on it – something e-retailing bean-counter extraordinaire Jeff Bezos is unlikely to want to do.
As for Apple, well, its data centers form a sliver of its overall environmental footprint, with their 486,000 metric tons of greenhouse gas emissions accounting for less than 2 per cent of the company's emissions.
Production, on the other hand, accounts for 61 per cent of its emissions with contract manufacturers like Foxconn helping Cupertino spew 18,934,000 tons of greenhouse gas emissions into the atmosphere every year. ®