This article is more than 1 year old
Syrian hacktivists hijack BBC Weather feed
Hang on, so should I put the washing up or not?
Syrian hacktivists took over the BBC Weather Twitter account on Thursday afternoon.
Instead of getting the usual updates such as "partly cloudy over the British Isles with a chance of rain later" the 60,000 followers of the @BBCWeather account on Twitter were confronted with a series of bizarre messages. These updates included:
Hazardous fog warning for North Syria: [Turkish Prime Minister Recep Tayyip] Erdogan orders terrorists to launch chemical weapons at civilian areas
and
Saudi weather station down due to head on-collision with camel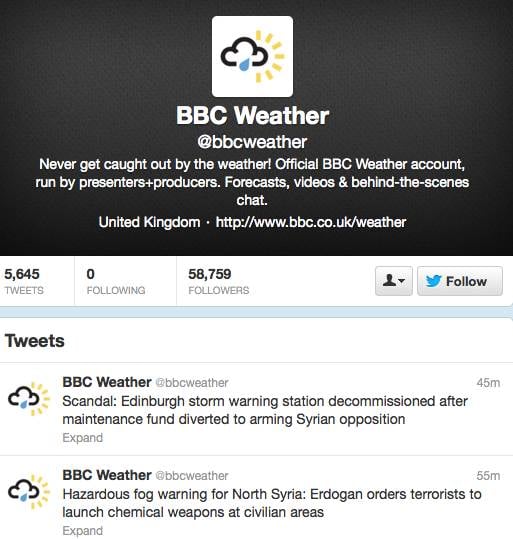 A crew called the the Syrian Electronic Army, a pro-Assad group, took credit for the hijack. The same group also claimed responsibility for the hijack Al-Jazeera's mobile news feed last year.
"Whether the legitimate owners of the @BBCWeather account were phished, had their password cracked, or made the mistake of using the same password in multiple places isn't currently clear - but what is obvious is that right now they have no control over their account," writes Graham Cluley of Sophos in a blog post.
The hack appears to have been motivated by a desire to push out propaganda to a wider audience rather than any intention to spread malicious links, or to promote diet scams, two popular reasons for Twitter account hijacks, which are becoming increasingly frequent.
Twitter's putative plans to introduce two-factor authentication - the best method for frustrating basic account hijack hacks - can't arrive too soon.
The @BBCWeather account was compromised for around two hours before the offending tweets were deleted and normality restored. ®