This article is more than 1 year old
Fukushima switchboard defeated by rat
NON-MUTANT RODENT in NUKE PLANT ELECTRO-SHOCKER
A careless rat is being blamed for a power outage that left the Fukushima nuclear plant's storage tanks without cooling.
Late on Monday, March 18, TEPCO experienced a power cut at cooling equipment serving the nuclear fuel storage tanks, in an incident that took 30 hours to overcome (the company emphaised that during the outage, radiation in the area "remained at a safe level").
A faulty switchboard was blamed for the incident, and in the kind of explanation that doesn't exactly inspire confidence, TEPCO says a 15-cm (6-inch) dead rat found "near" the switchboard may have been linked to the failure. The company says it will further investigate the dead animal and possibly-associated "burn marks" on the switchboard.
A TEPCO statement referred to a "rat-like" creature (possibly because it wasn't in any fit state to identify itself), which conjures up images of something that might tempt Peter Jackson to take up B-grade horror again (after all, wasn't Black Sheep really his best work?).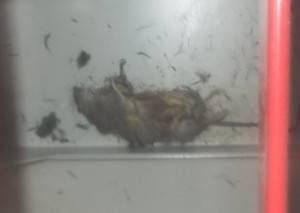 Fukushima shutdown suspect, aka rattus rattus
The Wall Street Journal says the incident underscores the continuing vulnerability of the facility; the BBC observes that the switchboard in question is a "makeshift" unit, while Russia Today reaches for a handy panic button with claims the outage left the plant "one step from meltdown, in spite of TEPCO's assertion that the fuel pools remained below the safety limit of 65°C during the incident.
Two years after the plant's original meltdown following an earthquake and tsunami, the Japanese government now says the reactors exist in a state of "cold shutdown" and aren't releasing dangerous levels of radiation - so we can probably hold off welcoming our new mutant rodent overlords for a while longer. ®