This article is more than 1 year old
Review: HTC One
The Apple iPhone 5 Samsung Galaxy S4 killer
A year ago, I finished off my review of HTC's One X by predicting great things for it and its maker. And then Samsung's Galaxy S3 merrily outsold it ten to one. Thing is, that wasn't a case of me being a colossal twit. The One X is the better phone - it's better made, better looking and better to use.
Luckily for HTC, the new One is loaded with some cool headline-grabbing features to lure S3 owners and potential S4 buyers its way, including front-facing stereo speakers, a screen with a spectacularly high pixel density, a camera with a massively pixel-packing sensor, a Qualcomm Snapdragon 600 chip that goes like stink and an all-new version of HTC's Android overlay, Sense, to name but a few.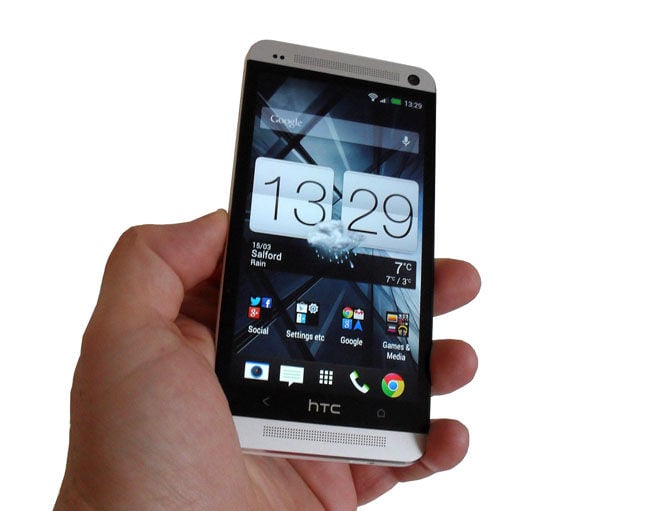 HTC's One: a truly lovely bit of kit?
Right away it's clear that physically the One is a truly lovely bit of kit. I'm not going to dignify the accusations that it looks like an iPhone 5. It only does to the blind or terminally dim. The aluminium unibody feels cool and solid, and despite housing a 4.7-inch screen and a 2300mAh (fixed) battery weighs only 143g. It's just a gnat's pizzle over 9mm thick.
As a compromise between usability and premium heft it's bang on the money. So is the brushed aluminium and white colour scheme. The absence of a camera shutter key is its only design failing.
As is becoming the norm, the 4.7-inch screen is a 1920 x 1080, Full HD affair with a whopping 469dpi pixel density. It uses HTC's favoured "Super" LCD tech rather than Samsung's "Super" AMOLED. This means that while the colour palette is more natural when it comes to still images and video, hues are less eye-poppingly vivid the rest of the time.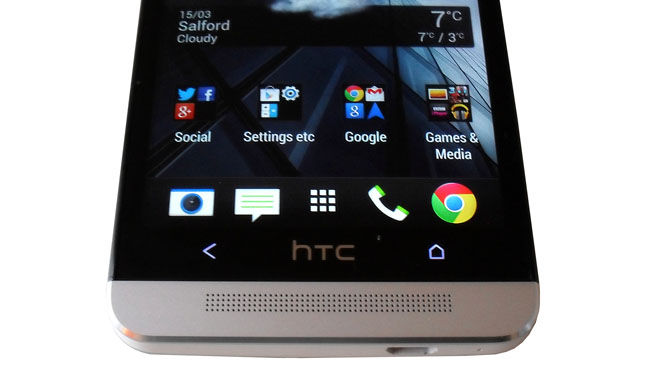 The HTC logo is entirely decorative
Which you prefer is a matter of personal choice. I often use my phone to watch video so I prefer the more natural look of LCD. Either way, the panel wants for nothing in terms of brightness or expansive viewing angles and is almost supernaturally sharp.
While some Android phone makers still insist on physical buttons, HTC is busy ditching even the virtual ones. The One only has two below the screen - Back and Home - flanking the purely decorative HTC logo. If you want to launch Google Now, you long-press on Home or double-tap to see your recent apps.
I'm not entirely sure using the HTC logo as the Home button wouldn't have been a better solution, but I imagine I'd get used to the new layout in short order.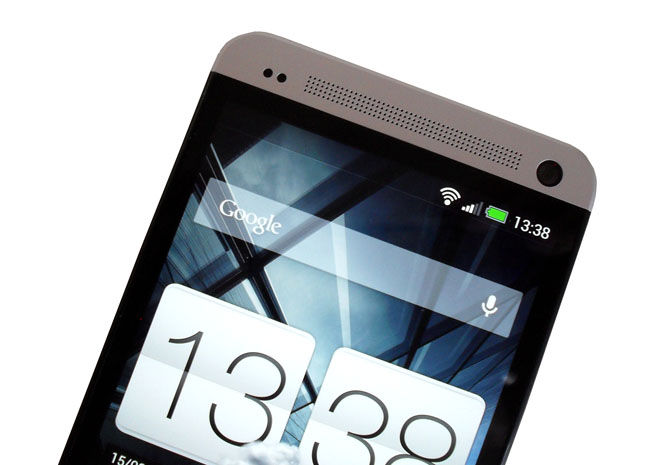 The upper speaker and the rather good 2.1Mp webcam
Modern smartphones are getting so ludicrously powerful that spending time banging on about benchmarks scores is pointless. Thanks to its Qualcomm APQ8064T Snapdragon 600 chipset, which incorporates a quad-core 1.7GHz Krait-class CPU with 2GB of RAM, the One is faster and more powerful than a smartphone has arguably any real need to be.
The SunSpider browser score of 1182 was more down to earth but in day-to-day use that's not something you are ever going to notice and is more a reflection of the fact that Chrome just doesn't excel at JavaScript rendering.