Microsoft, Adobe, wilt during Australian price gouge grilling
Local leaders struggle with 'price what the market bears' charge
Adobe and Microsoft's Australia's managing directors have both struggled to answer hours of tough questions from Australia's Parliamentary inquiry into IT pricing.
Apple's Tony King was the first witness to front members of parliament for ninety minutes today of MPs today, and acquitted himself well.
Adobe's Paul Robson was rather more flustered, struggling to explain why the Standard Edition of Creative Suite 6 costs Australian buyers $AUD2,172.01 while those who shop in the USA $1299.
The Australian price includes a ten per cent goods and services tax while US jurisdictions add another five to ten per cent to retail prices thanks to local taxes. Yet at the current exchange rate of $US1.04/$AUD1.00, a direct conversion of the SC6 price should see CS6 cost Australians about $AUD1249, plus tax of $AUD125 for a total of $AUD1374, still far cheaper than Adobe's Australian pricing.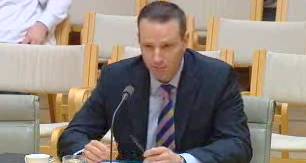 Adobe Australia Managing Director Paul Robson appears before Australia's IT pricing inquiry,
but with many fewer observers than Apple's Tony King attracted
Robson's theme was that Adobe's cloudy offerings cost the same in the USA as Australia, but that local costs push up prices.
But the only cost Robson was willing to identify is that incurred to offer a "personalised and local" experience on the version of the company's website offered to visitors from an Australian IP address. The forums and custom local content there, he said, are the substantive thing Adobe does differently in Australia compared to the rest of the world.
Robson was also unable to convince the inquiry's members why the Teacher And Student editions of its products are sold for much less than the price of other editions. At one point members of the inquiry, all Australian members of Parliament, explored the cost of the boxes in which Adobe products ship and whether the packaging used for education editions is materially different to those used for the vastly more expensive "full" versions of the product in ways that would impact prices.
At one point questioning even suggested that the high cost of Adobe products could be one factor in making the cost of doing business so high in Australia that Adobe needs to charge more for its products.
By the time that circular argument emerged Robson appeared a little worn down by proceedings.
Microsoft's Marlow monstered
Microsoft's Marlow didn't hold up quite as well as she presented her case that while Microsoft may charge more in Australia than it does in either the USA or Singapore, it is competing lawfully, faces colossal competition and feels consumers would vote with their wallets if Microsoft products are felt not to represent value.
Marlow's point that Microsoft does not operate with a single global price, illustrated with an admission that developing nations cannot afford to pay the same as richer countries, went down rather badly.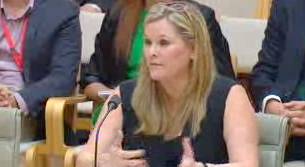 Managing Director Pip Marlow at Australia's inquiry into IT pricing
Marlow also refused to accept the committee's calculations of price differences, saying that as she was not privy to their calculations she felt it inappropriate to comment. She fought back when confronted with a bundle of Visual Studio and MSDN membership sold at $US12,000 costs over $AUD20,000 in Australia, saying the source for that comparison did not understand the nature of the product and that the product is not sold in a comparable bundle in Australia.
Inquiry members then pursued Marlow, suggesting that small businesses have little choice but to use Microsoft Office in order to preserve investments in files created using the suite. High prices for upgrade, it was suggested, are possible because few alternatives exist. Another line of questioning suggested Microsoft is a contributor to the high cost of doing business Australia.
"We do want to sell our products, we do want to delight our customers and if we price too high we will see sales fall," Marlow replied. "Supply and demand and those competitive forces will absolutely play out."
The inquiry will next consider ways to give Australian consumers access to the same prices available overseas. Geoblocking was mentioned repeatedly during today's hearings, and at one point an inquiry member suggested the possibility of outlawing it so Australians can download software at cheaper prices.
Whether that is possible given on a technical level is one thing, as the likes of Microsoft and Adobe could easily comply with Australian law while still leaving servers overseas refusing to accept Australian credit cards. Australian politics also make anti-geoblocking legislation unlikely, as an election in September will likely see a change of government. The current opposition hasn't displayed quite the same enthusiasm for the issue of IT prices and is unlikely to make it a priority. ®