Stephen Fry explains… Alan Turing's amazing computer
Universal Machine upgrade needed, where can I find the parts?
---
It has been almost two years* since Stephen Fry last put his foot in his mouth - but the boy has gone and done it again.
The nation's most cherished TV advertisement voiceover artist is cherished here, too, at El Reg - for his technical wisdom. After his attempt to explain how the internet works (it needs atomic clocks), we hosted a regular "Fryday" in which you offered us Fry-style explanations of how TV works, how Christmas tree lights work, and how lightbulbs work.
The Great Man has now turned his attention to British mathematical genius Alan Turing. Fry doesn't disappoint. In an audio burp, he tells us that, after the war, Turing:
"... moved on later, in Manchester, to the idea of this Universal Machine, which is the first programmable computer, essentially, which instead of being dedicated to a particular task like cryptanalysis, you could use it for programmes and that's what this world now has."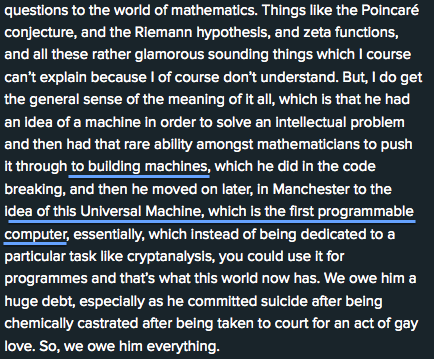 That's not entirely correct: for starters, Turing helped crack Nazi military codes after devising his Turing Machine. You can hear Fry's timeline slip-up here - or read it by clicking on the "transcript" link on the same page.
After being alerted to this last week, we waited for the British computer establishment to ever-so-gently correct the luvvie. But we waited in vain. In fact, they're now repeating his blunder. Computer science lecturer and winner of the "most influential tech tweeter of 2011" award Dr Sue!!! Black:))) - we're using her fu!! name ;))) - who is a Trustee of Bletchley Park, was only too happy to endorse Fry's bizarre history: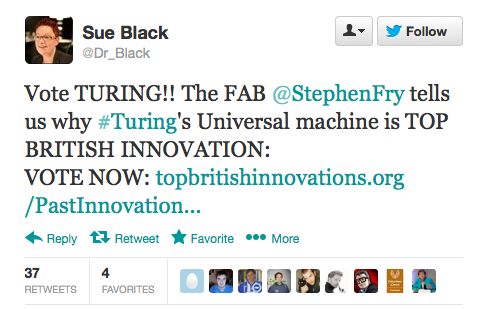 Is our children learning?
This is not a promising development. Our luvvies are trying to be computer experts. And our computer experts have turned into luvvies - if the highly theatrical Twitter feed of Ms!! Black ;))) is anything to go by. You could light a planetarium from that punctuation. And between them, the idiocy just spreads like a bad smell: the luvvies will read out anything, and the experts dare not correct them.
What should we do? Something has gone horribly wrong. Perhaps we need another competition.
In the meantime, you can find out more about Alan Turing here. His Turing Machine [PDF] is an abstract mathematical model that he devised in 1936 - before his wartime code-breaking - rather than a physical programmable computer that he actually built. Tommy Flowers' Colossus, constructed in 1943, is considered the first programmable digital computer. ®
Bootnote
* We may have missed a few. According to this piece, Fry appeared on British TV 189 times during a two-week period over Christmas. Not including voiceovers.