A team of European researchers has discovered that a single nanowire can concentrate the amount of solar energy delivered to a photovoltaic cell by a factor of up to 15, a breakthrough that could improve the efficiency of electricity-producing solar cells.
"Due to some unique physical light absorption properties of nanowires, the limit of how much energy we can utilize from the sun's rays is higher than previously believed," said researcher Peter Krogstrup, reports the Neils Bohr Institute of the University of Copenhagen.
Krogstrup was the lead author of a paper describing his team's discovery, published on Sunday in the journal Nature Photonics, entitled "Single-nanowire solar cells beyond the Shockley-Queisser limit".
That limit, first described in 1961 by William Shockley and Hans Queisser, put the maximum efficiency of a solar cell at just under 34 per cent. According to Krogstrup, however, the solar energy–concentrating effect of nanowires can lift photovoltaic effiency above that limit – although at present just how much further is unknown.
"It's exciting as a researcher to move the theoretical limits, as we know," Krogstrup said. "Although it does not sound like much, that the limit is moved by only a few percent, it will have a major impact on the development of solar cells."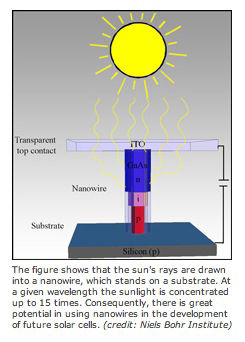 The nanowires involved have an exceptionally tiny diameter – about one–ten thousandth of a human hair. The light-concentrating effect occurs because the wavelength of the light traversing the nanowaires is smaller than the nanowires themselves, thus causing resonance of the light in and around the nanowires.
"Thus, the resonances can give a concentrated sunlight, where the energy is converted," said Krogstrup, "which can be used to give a higher conversion efficiency of the sun's energy."
To be sure, this discovery won't lead to more efficient photovoltaic cells anytime soon – Krogstrup says that it will take "some years" before the production of nanowire-boosted solar cells can be expected.
That said, vaulting photovoltaics beyond the Shockley-Queisser limit is yet another addition to the encouraging possibilities engendered by tiny li'l nanowires – add this development to potential improvements in batteries, chip-baking technology, biocompatible sensors, "spintronics"-based "racetrack memory", waveguide lasers, and more.
It's a fine time to be in the materials-science biz. ®