Updated Pix A Florida fisherman found an unpleasant-looking surprise in the belly of a bull shark he had just caught; a two-headed fetus ready to be born.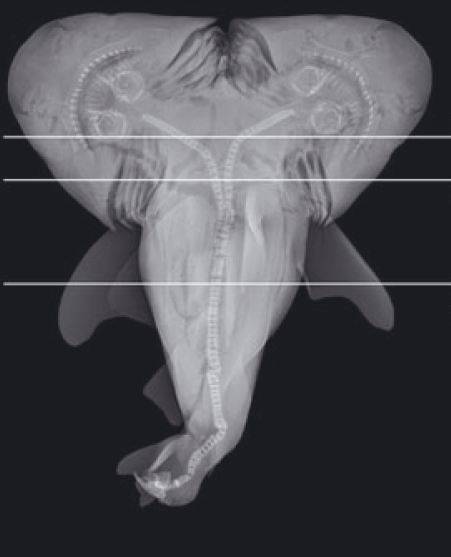 Double the bite (credit: Journal of Fish Biology)
The specimen, described in the latest Journal of Fish Biology, has two heads side-by-side, each with its own gills, mouth, and teeth, fused onto a single body. The fisherman kept the fetus for further study, and released the remaining shark offspring, which were able to swim away.
"They're hardy little critters," the paper's coauthor Dr. Michael Wagner, assistant professor at Michigan State University department of fisheries and wildlife, told The Register.
"But despite this, the two-headed specimen probably would have died after birth. It was near-to-term, but should have been a lot larger – the body looks to have invested so much energy in growing a separate head that the rest of the body was foreshortened."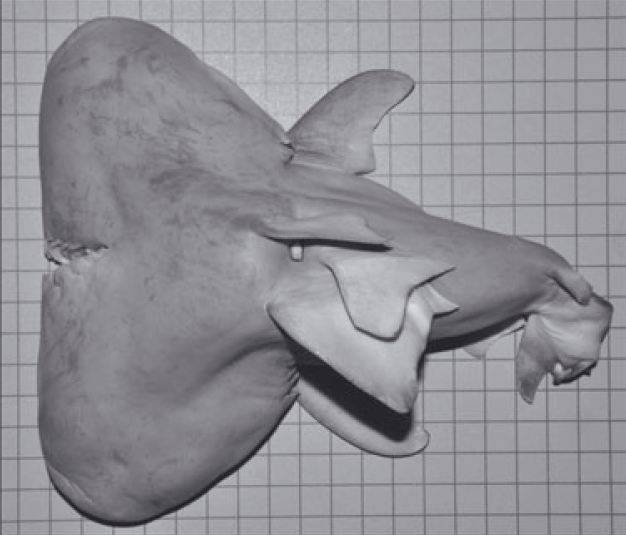 Two heads are decidedly not better than one (credit: Journal of Fish Biology)
This is the first time that a two-headed bull shark has been recovered, although the phenomenon has been recorded in a handful of other shark breeds. Wagner said that there's no way of knowing how common this form of defect is, since such sharks typically give birth in open water and are seldom kept in aquaria (Bond villains notwithstanding.)
There are numerous examples of twin-headed animals, particularly among reptiles, he said, and there is a small but dedicated market for curios of this type. Wagner said it was important to study such examples to get clues as to how this type of abnormality comes about and its implications for biology.
Wagner said that the fetus was most likely an ill-formed twin that had started to bifurcate and then stopped once the mid-spine had formed into one unit. While some might say that the fetus is a the result of pollution, especially considering the 2010 BP Deepwater Horizon oil spill, but Wagner said there was no way the cause can be determined based on one sample.
Bull sharks are one of only a few species of shark that attacks humans, in part because it focuses on hunting in shallow, cloudy waters, and because of its "bump and bite" method of determining what is tasty prey. They are also popular with game fisherman, as they put up a good fight when hooked.
According to the International Shark Attack File, there were 80 instances of unprovoked shark attack against humans in 2012, with seven deaths.
By contrast, around 100 million sharks were killed last year, a fair number of which had their fins cut off for soup before being thrown back into the sea to sink and drown. ®
Update
In fulfillment of The Reg's sacred duty to bring you, dear reader, every bit of information on the momentous discovery of the two-headed mutant shark, we bring you a new image of that miraculous creature, provided by Michigan State University: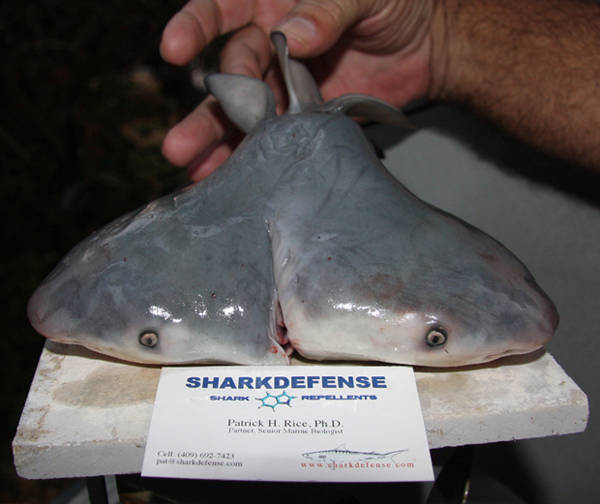 (source: Patrick Rice, Shark Defense/Florida Keys Community College)
As this new image shows, the poor unfortunate Carcharhinus leucas was actually kind of a cute li'l fella, don't you think? Or should that be "fellas"?