Updated Microsoft has announced that it will make updates to Windows 8's built-in Mail, Calendar, and People apps available via the Windows Store beginning on Tuesday, March 26.
"This update will bring improvements to your Windows experience across your whole life – your personal communication and your work," Brandon LeBlanc of the Windows team wrote in a blog post.
Windows 8 and Windows RT both come bundled with a set of Windows Store apps for basic computing functions, including messaging, playing media, and accessing information services such as maps and weather reports. But the anemic versions of many of these core apps that shipped when the two operating systems launched were so lacking in features that they compared poorly to equivalent apps on many smartphones. The new update aims to fix at least some of that.
"You will see big improvements to performance and additional new features to make it easier to connect with friends and colleagues, manage your inboxes, create and send email, and manage your calendar," LeBlanc wrote.
Among the new features in the Mail app are the ability to create and delete subfolders under an inbox, flag important emails, and search for mail on the server (even if it has rotated out of your local inbox).
The new app will suggest contacts from your most frequent recipients, and it causes draft messages to float to the top of your inbox, so they're easier to find when you're ready to finish them. It also does a better job of preserving the formatting of content pasted in from other sources, and it makes it easier to apply formatting such as hyperlinks and bulleted or numbered lists from within the editor.
The Calendar app has received a visual overhaul such that color-coded events aren't quite as eye-popping; instead of large blocks of color, they now just have a small, colored bar along the left edge. There's also a new "work week" view, and the app now integrates with Exchange Server's appointment-scheduling features.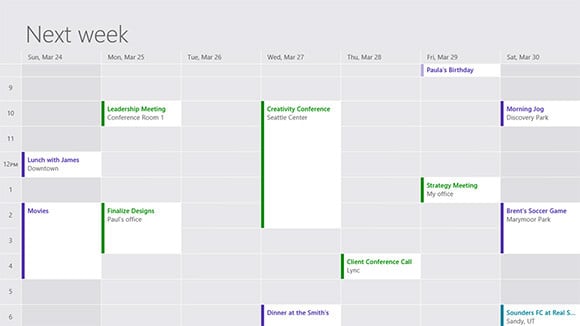 The redesigned look and feel of the Windows Store Calendar app will stun and amaze you
And last but not least – well, OK, least – the improved People app allows you to access the main app commands from anywhere in your contacts list by swiping down from the top or right-clicking. You can also post to your friends' Facebook walls, and the app will now let you filter your contact lists by social network.
If you're thinking that these updates don't exactly bring the Windows Store messaging apps up to the standard of Outlook, you would be right. But any improvement will be a blessing for users who have been frustrated by the early versions of these apps – and at least the update will be free.
It won't be the last such, either. Earlier this month, Microsoft announced that it plans to ship fixes and updates for its Windows Store apps on a regular basis as soon as they're ready, foregoing its usual Patch Tuesday release cycle.
One important thing about these app updates, though: they're not automatic. Microsoft will make the new versions of its communications apps available in the Windows Store sometime on Tuesday, but users will need to use the Windows Store app to install them manually. ®
Update
Microsoft contacted The Reg on Tuesday to let us know that in addition to the feature updates described above, the Windows Store app update pack also includes security updates for the Mail application. You can read more about these fixes in Redmond's formal Security Advisory, here.
Similar topics