This article is more than 1 year old
Curiosity out of safe mode, doing science again
Next challenge: stop the Sun corrupting packets
NASA boffins have diagnosed and corrected the glitch that forced nuclear-powered, laser-packing space tank Curiosity to rely on its spare computer. The rover is now using the spare, but the "A" computer is once again ready for duty if required.
The craft has therefore resumed its analysis on the powdered samples of Martian rock it drilled a few weeks back.
But the vehicle now has a rather more testing problem to solve, namely how to combat the radio-signal-warping effects of the Sun.
The new problem first strikes on April 4th, when Mars gets very close to going behind for 27 days. Mars' location during that time is sufficiently close to the Sun that NASA has declared "a moratorium on transmitting commands to Curiosity" as "a precaution against possible interference by the sun corrupting a command sent to the rover."
NASA's not saying much about that problem, other than the cryptic missive that "Engineers quickly diagnosed a software issue … and they know how to prevent it from happening again."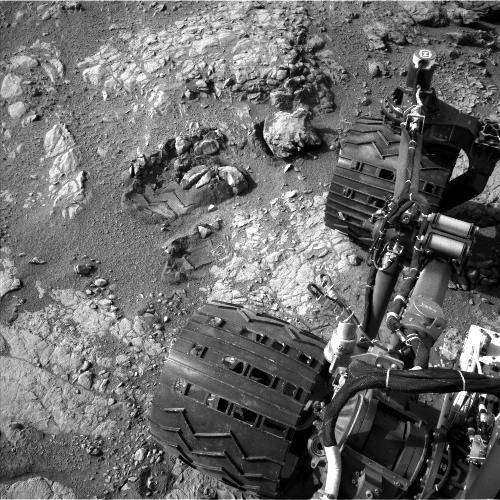 A Curiosity selfie taken with cameras
driven by the rover's 'B' computer
Image Credit: NASA/JPL-Caltech
Whether you favour a description of the Sun as a mass of incandescent gas or a miasma of incandescent plasma, it can't be denied that the modest star puts out rather a lot of radiation. And that doesn't make life easy for scientists on Earth sending cosmically insignificant radio signals to loyal robots on Mars.
So given all the possible ways the space tank can fail, temporarily shutting down Curiosity's operations to sort out the glitch was a sensible move. No one wants the rover to swallow a poisoned radio packet, do the Watusi and get bogged down in a nearby crater.
While the switch to the spare computer meant Curiosity stopped exploring, the time spent testing and fixing wasn't a total loss because NASA was able to play with half a dozen cameras that hadn't been used since before the craft landed on The Red Planet. Those cameras checked out just fine and Curiosity has even sent home the photo at right depicting the craft's wheels from a view not previously offered.
We can expect to see more such images, as the cameras used are hard-wired to the B computer and that machine has the conn for the foreseeable future. ®