Ellison aims his first Oracle 'mainframe' at Big Blue
T5 takes the lead from Power and x86, Big Larry claims
---
Larry Ellison has launched the first mainframe-class machine that he can correctly say he made sure came to market, and now he is going to take a run at IBM's mainframe and Unix server businesses.
What's more, it looks like he will to be able to make some credible arguments as to why customers running Oracle software – and indeed any mission-critical app that runs on any Unix – will run better on the new Sparc T5 and M5 servers.
Oracle announced the new Sparc servers at an event in San Francisco today, and El Reg already gave you the feeds and speeds on the new T5 and M5 processors and their respective systems. At that event, Ellison touched on some of the salient characteristics of the new servers, but he spent most of his time explaining how Oracle would keep the pedal to the metal, pushing performance even further after taking the lead from Intel and IBM in terms of throughput-per-processor and bang-for-the-buck against IBM's Power Systems lineup.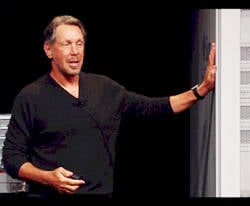 Ellison lovingly pats his first Oracle mainframe
At first blush, it seems a bit peculiar that Ellison should care so much about hardware – but maybe not.
When Ellison cofounded Oracle decades ago with Bob Miner, IBM mainframes and DEC VAXes were the main machines people used in commercial computing. And Oracle has always run its software on IBM mainframes and is well acquainted with their virtues: security, I/O throughput, reliability – and their excessive costs.
Ellison paid $7.6bn to buy Sun Microsystems a little more than three years ago to get Java and Solaris, but also to get hardware engineers who could build systems that would push back against the onslaught of IBM in the Unix space. And contrary to lots of talk, Ellison has maintained his commitment to both Sparc and x86 iron. Ellison likes to build and control his entire stack, and Sparc processors and systems let him do that.
When you are a multi-billionaire, you can indulge.
The Sparc T Series chips have more threads than any other processor out there, to be sure, but they have not been very good at raw, single-threaded, integer workloads. The situation got better with the Sparc T4, and it has apparently got quite a bit better with the Sparc T5 – and, presumably, its Sparc M5 "mainframe-class" big brother.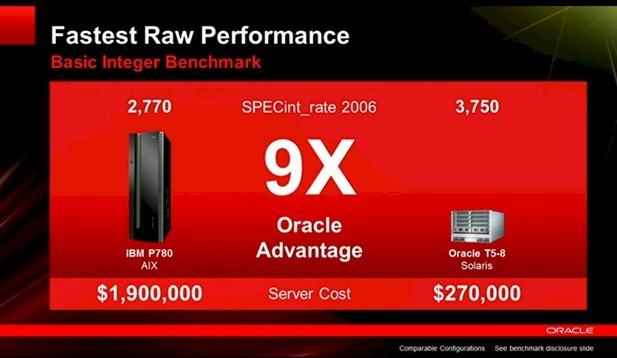 Oracle says it has passed IBM on integer throughput performance
"These machines deliver better integer performance than the IBM Power series," proclaimed Ellison. "The T5 microprocessor itself delivers better integer performance than IBM's PowerPC chip. Now that is really extraordinary, because IBM has had that lead for a very, very long time for integer rate performance, but that lead now moves over from IBM Power to Sparc T5.
"A lot of people are surprised by this," continued Ellison. "When Oracle bought Sun, a lot of people thought the Sparc microprocessor was a real laggard. There were a lot of people who believed that we would never catch up. Well, we have done better than catch up. We caught up, and then we passed the competition. We passed x86 and we passed IBM Power."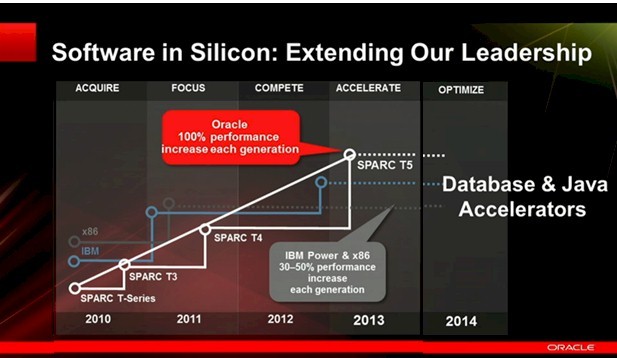 Larry Ellison's CPU roadmap throwdown to Intel and IBM
But, Ellison said, playing catch-up is easier than trying to go and double performance again as it has done with the Sparc T3 to T4 to T5. So what is Oracle going to do for an encore? Add database, Java, and other accelerators to its chips to make its software run faster, and free up those Sparc processor cores to do other tasks. Just like it added vector math units and encryption/decryption units to chips, Oracle is going to add database and Java accelerators.
Here's one example of a kind of database search acceleration that Oracle will cook into its processors in 2014: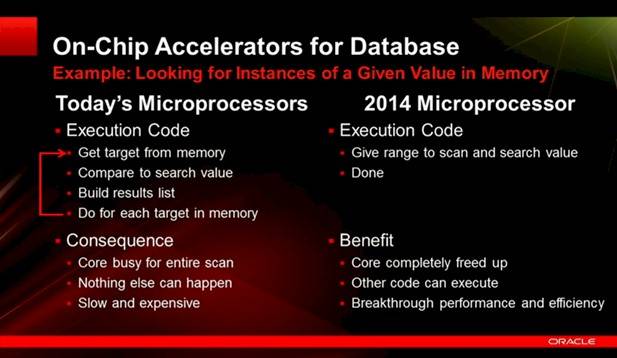 Oracle is going to accelerate database functions directly on Sparcs
In this example, you want to extract a range of matching data from the database. So you load the data into main memory and the processor runs the database algorithms to make the comparisons to find matches. When you find a match, you save it, and when you don't find a match, you ignore it. The processor cores are obviously busy through this whole process. Now, etch that database search function in the chip. You drop the data you are searching for into a buffer and the database search accelerator looks through the entire database without invoking the processor at all.
"We think that this will give us a greater and greater advantage going forward," Ellison said.
It doesn't hurt that Oracle owns some of the most popular systems software in the world, so it has customers who will be eager for these accelerated functions even if they are probably getting nervous about vendor lock-in. But that said, with Oracle claiming up to a factor of 10X improvement in bang-for-the-buck versus IBM's Power Systems machines, it's already trying to claim it has a huge lead in value. The question is, can Oracle start penetrating IBM accounts, particularly those that used to be Sun accounts? That remains to be seen.
But with the kind of numbers that Ellison was throwing around at Tuesday's event, you can bet a lot more CIOs and CFOs are going to listen. Ellison claimed that the new Sparc M5-32, which has 32 sockets using six-core M5 chips and scales up to 32TB of memory in a single rack, offers three times the bang-for-the-buck compared to IBM's top-end Power 795 system, and has an order of magnitude better value-for-dollar compared to the high-end Sparc Enterprise M9000 machines from Fujitsu, which are indeed several years long in the tooth.
Of course, the real question is how the Sparc T5 machines stack up against x86 systems in terms of price/performance – and Ellison didn't have a single thing to say about that. Larry & Co. are obsessed with taking share back from Big Blue in the midrange and high-end of the Unix market. ®