Oracle's new T5 Sparcs boost scalability in chip and chassis
Also aims brawny M4 – scratch that – M5 CPU at big-iron workloads
Oracle is launching its much-awaited Sparc T5 processors for entry and midrange servers, along with Sparc M5 processors to effectively replace the iron it currently resells from server and chip partner Fujitsu.
That Japanese supplier furnished Sun's and then Oracle's brawny-core Sparc Enterprise M midrange and big iron systems for the past six years – and the one thing that Oracle was not willing to talk about in a prebriefing with El Reg was the F-Word.
You might think that you slipped a few cogs here, because as far as we knew back in the wake of the OpenWorld extravaganza hosted by Oracle last fall and the company's processor roadmaps, what Oracle had been working on was the 16-core Sparc T5 processor, about which we went into great detail about here. There was also a beefier chip called the Sparc M4 that we told you about back in November after some feeds and speeds slipped out.
What is this Sparc M5 then? Well, it's the exact same chip as the M4, except its naming convention is now being brought into phase with the T5.
If you study Oracle's processor roadmaps, around the end of 2010 when the company was laying out its systems plans, the M4 chip was expected in late 2012 or so, with the Sparc T5 coming in early 2013.
Then last year, Oracle stopped talking so much about the M4 and said it could bring the T5 to market a little early, perhaps by last fall. And then OpenWorld came around, and Oracle pushed the T5 back to its original early 2013 timeframe. The M5 proper was supposed to come out early in 2014. Oracle will either push that original M5 out and call it an M6, or jump straight to the thing that was expected to be an M6. Hopefully Oracle will update its roadmap soon and explain.
Oracle is also not interested in talking about the "Athena" Sparc64 X processors from Fujitsu and the M Series of servers that Oracle's partner quietly launched back in January.
Fujitsu has launched a Sparc M10-1 machine with one of the sixteen-core Sparc64-X processors, a Sparc M10-4 with four of the chips in a single system image, plus a cluster called the Sparc M10-4S that glues sixteen of the four-socket Sparc64-X machines together using a distributed crossbar interconnect. The M10-4 is a replacement for the midrange M4000 and M5000 machines, while the M10-4S is a replacement for the high-end M8000 and M9000 servers. In Japan at least, the new Sparc64-X machines also bore the Fujitsu and Oracle brands, as the past several generations of Sparc Enterprise M servers did.
Marshall Choy, director of systems solutions and business planning at Oracle, would not comment on what plans Oracle might have to rebadge these boxes and resell them in the United States or Europe. With the T5 scaling up to eight sockets and the M5 scaling up to 32 sockets, it doesn't sound much like Oracle is interested in peddling Fujitsu Athena machines.
"This is an Oracle announcement with Oracle IP," explained Choy. "They have kind of done their own thing in Japan."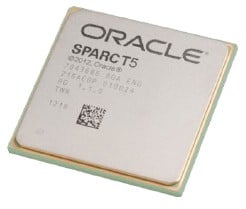 The Sparc T5 chip is not socket-compatible
with the Sparc T4
The Sparc T4, T5, and M5 processors are all based on the "S3" core design, and the differences between the processors come down to core count, L3 cache size, and clock speed.
The S3 core, you will recall, has much more balanced performance on single-threaded or multithreaded workloads than did the predecessor T1, T2, and T3 chips, thus making them more suitable for a broader range of workloads. The clock speeds are a lot higher, as well, which helps on single-threaded work. The T4 chips ran at 3GHz, and the T5 and M5 chips run at 3.6GHz.
All three chips are fabbed by Taiwan Semiconductor Manufacturing Corp, with the T4 using its 40-nanometer processes and the T5 and M5 baked using its 28-nanometer processes. You have to get in line to get your hands on 28nm capacity, as Nvidia and AMD learned at the beginning of the ramp. Choy says that TSMC has ramped up production on the new T5 and M5 processors and Oracle has even gotten a few machines to beta customers in the past several months. The servers using the new chips are generally available starting Tuesday.