Oz shop slaps browsers with $5 just looking fee
Sign of the times cashes in on comparison shoppers who buy online
---
A specialty food store in the Australian city of Brisbane has erected a sign insisting it will charge $AUD5.00 ($US5.25, £3.46) to enter the store, refundable if you buy something.
But if you leave the store without buying the store assumes you may be comparing prices to those available online and keeps the cash.
The store in question is reportedly Celiac Supplies, a store that bills itself as "Brisbane's only gluten free and wheat free store, with over 2000 gluten free items under one roof."
Redditor BarrettFox spotted the sign depicted below, posted it to imgur.com and the rest will soon be internet history.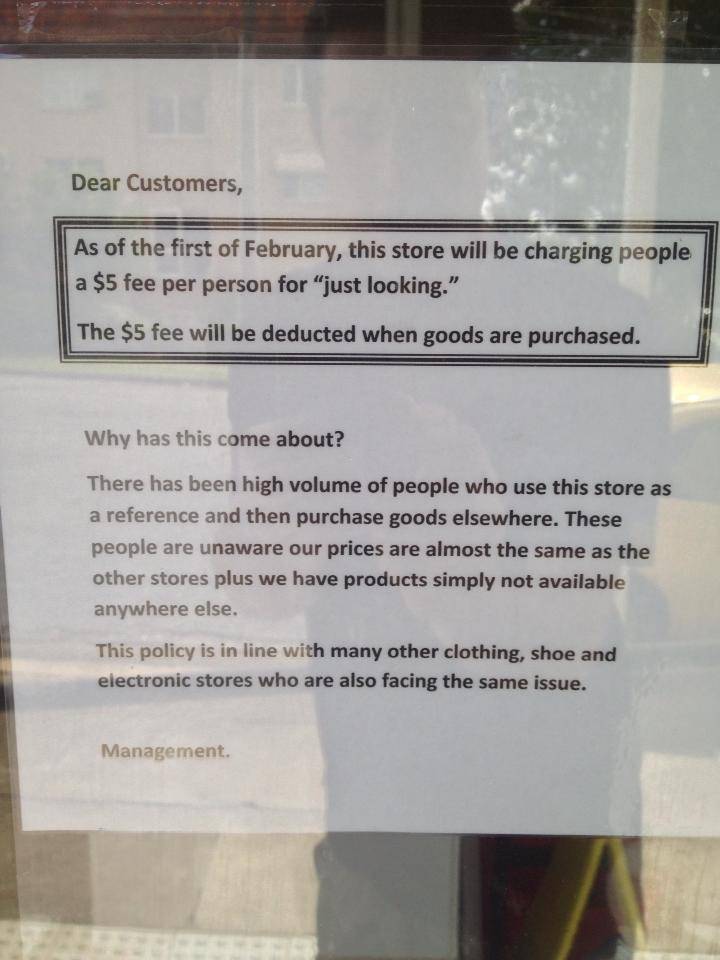 The sign at Brisbane, Australia, store Celiac Supplies
Credit: Redditor BarrettFox
The proprietor of the store, who did not answer the phone for several hours on Wednesday morning (Australian time), told Australian Associated Press around 60 people a week ask her for advice but then buy elsewhere. That behaviour annoys her as she feels her expertise has value. Those who shop on price or pick her brains without making a purchase therefore forfeit a fiver.
The sign's final line, "This policy is in line with many other clothing, shoe and electronic stores who are also facing the same issue" does not, however, ring true as The Reg's Australian team is aware of no other antipodean retailer that has adopted this practice. Larger retailers are, in fact, negotiating hard to ensure their wholesale prices fall so they can sell at online prices and still make a profit despite having to go through all the hassle of running shops and making them pretty. Some are even building nifty experiential stores like the Eyehub, where spectacle shoppers can simulate use of their desired eyeware in a wind tunnel (for cyclists) and a very glarey room (for skiers), the better to lure shoppers away from their PCs and back into meatspace.
The proprietor mentions Australia's two dominant supermarket chains as the beneficiaries of her advice, and the entities concerned are sufficiently voracious that Australia's government is about to launch its second inquiry in ten years into their market power.
Yet much of the free advice dished out to small retailers (and to your correspondent in past journalistic lives writing for them) in the business press suggests becoming an expert in a niche is the way to fight off both the supermarket behemoths and the online discounters.
At the time of writing, Celiac Supplies isn't picking up its phone, never mind defending its niche expertise. ®