This article is more than 1 year old
Blighty's revolutionary Cold War teashop computer - and Nigella Lawson
Nuclear missile with your sponge finger, sir?
A two-year bug hunt, decades before IDEs and such tools
Where the LEO differed to the EDSAC were in the modifications made by Lyons to make it business-ready. Input and output channels were added so LEO could read and write simultaneously, allowing it to multitask better, whereas EDSAC had a single channel for input and output. Lyons extended the basic operating system using macros written by an inexperienced team of computer programmers, who wrote special instructions for things such as addition, subtraction and currency conversion.
Every macro was written on a piece of paper, checked by another person, and overseen by the man who became the LEO's software research officer manager David Caminer - a veteran of the Second World War who lost a leg in North Africa. The programmers had varied backgrounds – Mary Coombs, the world's first business computer programmer, was a French graduate – while another coder called Frank Land was an economics grad from the London School of Economics (LSE).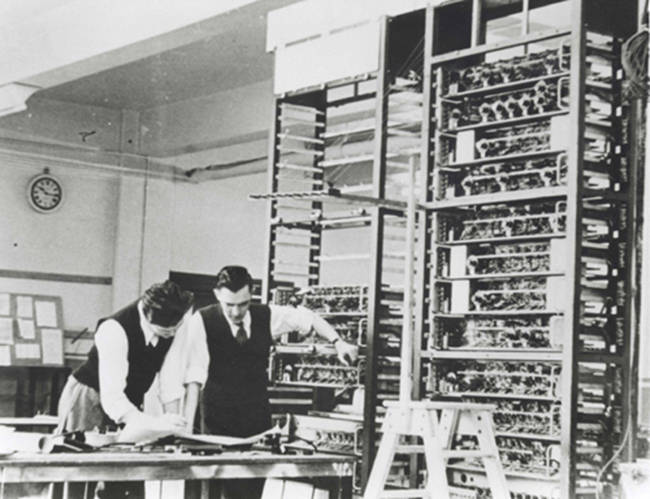 Working on the first LEO (Photo: Peter Bird)
To work on the LEO, a developer had to pass various tests to prove they had the crucial skill of clear, logical thought. Land, who had worked in the Lyons statistics office, programmed the new apps; by 1967 he was the chief consultant responsible for the LEO systems teams across Britain.
Speaking to The Register, Land recalled that it was Caminer who drove the Lyons LEO team hard. Land said Caminer set the standard: "He, in a sense, invented software engineering of business processes – he was meticulous, he was a tyrant, but instilled standards in us that made things work. He made you write the documentation and if he didn't like it, he flung it at you."
The big date celebrated in the LEO's history is 5 September, 1951, when the first program was run - an application known as Bakery Valuations. The first LEO calculated the profits and costs of running its ovens, from the fuel needed to make the food to the ingredients, staff wages and distribution to the shops, cafes and restaurants. These calculations had been performed by Lyon's army of 5,000 accountants armed with calculating machines but the LEO broke the job down into small units, so if there was a problem it could be restarted without losing track of the data. The program went from being performed once a week to being executed in just a couple of hours.
It's this date that was celebrated in 2011 as the 60th anniversary of the LEO business computer. But the machine didn't actually become operational until 24 December, 1953. That was when Lyons bosses felt the LEO was reliable enough to trust it to run the business. Between 1951 and 1953, Land's team had to find bugs in the computer's apps, and they developed procedures to follow should the LEO break down mid-job. It was Pinkerton who over saw the work getting the LEO running properly and developing safety procedures.
"We developed ways to test the computer and ensure it worked and on how to overcome problems, and on the system side how to divide jobs, so if there was a breakdown it could be started without wasting what had been done," Land told The Reg. "We couldn't get anything on the computer until it had been checked by second programmer - the most pressing thing was computer time."
As with computers in business today, Lyons quickly found lots of different and probably unexpected uses for the LEO beyond cup-cake counting. The payroll for 10,000 staff went on the second LEO machine, LEO II, in February 1954. In October that year, data from Lyons' network of more than 200 teashops went into the LEO to manage the tea-time treats empire in real-time, or as close as possible to that.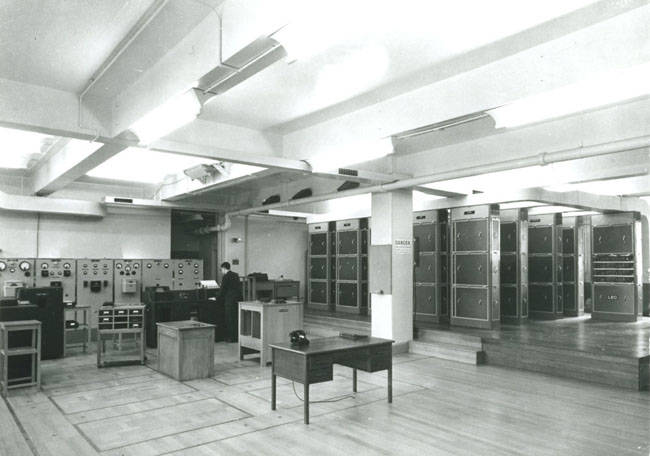 Lyons' LEO I at the Cadby Hall HQ in Hammersmith (Photo: Peter Bird)
Lyons was famed for its network of 250 tea shops in Blighty - these were meticulously designed and staffed by waitresses in smart black uniforms; you were never far from a Lyons teashop in town. It was said there was a Lyons teashop every 100 yards in the centre of London, with its cafes scattered around Piccadilly, Kings Cross and other upmarket surroundings.
Problem was, there wasn't much margin in a cup of tea – a cuppa cost about 2 shillings and 2 pennies or less than two quid today, while the shops slapped on plenty of costs: food was cooked, frozen and delivered across the country from central bakeries to prime high-street locations each day. Also, the teashops had an 80 per cent annual staff turnover, making calculating the payroll a moving challenge. Lyons hit on the idea to make and ship to shops only what was needed based on anticipated next-day demand.
So, starting in October 1954, the manageress – and, yes, they were all women - of each teashop would call the Hammersmith HQ from a pay-phone near her shop at an allocated time to relay her shop's orders. She gave the shop's code – starting with "A" for Piccadilly – each item's code and the quantity, recording just the deviation from a standard order. Each order covered milk, tea, sandwiches, cakes and cooked meals. The LEO calculated production requirements, delivery schedules, invoices and management reports - all done over night.
"This was as near a real-time system as you could get," Land told The Reg. "Thousands of individual pieces of data were coming in each day. By today's standards that was tiny but by standards of then that was miraculous. One lived in an era of excitement because every day we were doing something new."
The nearest competition, ABC's Teashops owed by Canadian businessman and philanthropist Garfield Weston, used hole-punch machines to computerise its operations - a clunky technology rejected by Lyons because it lacked the flexibility to deal with the business changes taking place.
The LEO also calculated the blends of tea, and how to mix them to maintain a consistency of flavour given the quality of the local water – it was decades ahead of Starbucks, which sweats to ensure its coffee-like beverages taste exactly the same in Leicester Square, London, as Union Square, San Francisco. Each week Lyons received data on tea from auctions, gardeners, growers and from its own people.
"The LEO kept track of movements of tea in the warehouse and costs of tea for use in blending process – this was done on a daily basis," Land said.