Apple, whose iPhone has been criticized for having a display that's relatively small when compared with smartphones such as the Samsung S4 and HTC One, has filed a patent application that proposes a novel solution: a display that wraps around the entire handset.
Well, not "wraps around," per se, but rather "wraps within." Patent application 20130076612, published Thursday morning in the US Patent and Trademark Office's weekly filing-fest, describes a device in which a flexible AMOLED display is inserted into a hollow glass housing, and is pressed against the inside of that housing by "structural support elements."
The reasoning behind this all-display, all-the-time "embodiment" – to use the appropriate patentese – is to increase the amount of available display area to include the front, back, and sides of the handset. Other embodiments allow for some of the hollow housing to be made opaque or translucent, thus lessening the amount of display surface.
This is not Apple first patent filing that describes the use of flexible AMOLED displays. Just last month, for example, Cupertino filed patent application 20130044215, which described a flexible display that would snap onto your wrist like a toy slap wristband, fueling rumors of the much-discussed and possibly pending Apple iWatch.
Interestingly, this new patent application doesn't specifically describe whether its "insert and unroll" AMOLED installation technique would be used solely for manufacturing, or if it could also be performed by users in the field. If the latter, the housing as described could be used as a container for an iWatch when you didn't want to wear the li'l thing on your wrist.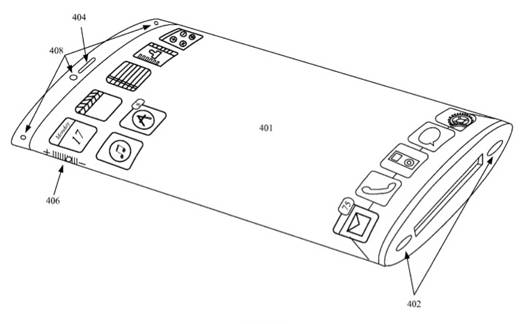 Apple's patent filing describes a possible future iPhone with a display that encircles its entire body
We doubt it, though. Application 20130076612 describes how the AMOLED display in question would be bonded to a polyimide substrate. That material has the property of being able to be heat-treated so that it "remembers" a specific shape, even though it can be temporarily rolled into another shape – for insertion into a glass or plastic transparent housing, for example – and then resume its remembered shape when unrolled.
This capability would, for example, allow the display to be fashioned in such a way that would allow it to closely nestle into the crimped edges of the housing when it's unrolled. A polyimide-backed AMOLED display that was heat-treated in that way would not, of course, function well as an iWatch. A lumpy iWatch, maybe, but not something that would conform well to your wrist.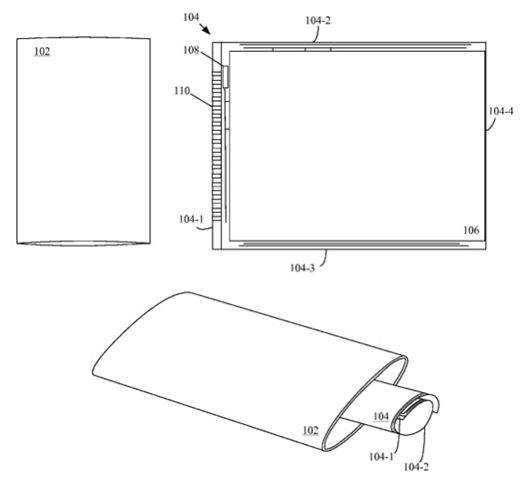 Top left: the transparent housing. Top right, the AMOLED display.
Bottom: the display rolled up and inserted into the housing
The filing also describes a rather simple and permanent-looking connector that handles communications between the display and the device's logic board, which resides in the center of the transparent housing. That connector, in the filing's illustrations at least, does not appear to invite end-user fiddling.
That said, the filing does describe in-the-field customizations – specifically a "removable end cap [that] could also allow users to add end caps with additional functionality" such as "an improved camera or a different set of wireless antennae" or a data connecter that could link the device to "another similar portable electronic device."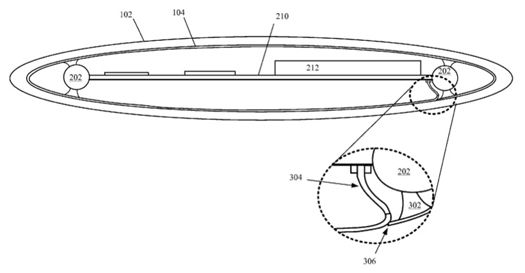 The AMOLED display wraps around the logic board and folds 'round onto itself like a snake eating its tail
Another interesting feature described in the filing is a face-recognition capability that could detect which side of the device a user is looking at, and move the appropriate content of the display to that side.
One final detail that points to a new way of thinking about handset displays: the filing notes that a second flexible AMOLED display could be added to the device behind the primary display, and that could present visual content in cooperation with the outer display.
"In this way," the filing notes, "an illusion of depth perception can be presented mimicking a 3D experience." Other dual-display effects could be employed as well, especially if the primary display is constructed in such a way that it could switch between being opaque, translucent, or fully transparent.
"Why?" you might ask. Well, this is a patent filing, and as such it's a thought experiment and not a product. Use your imagination as to what one display nestled beneath another, both filling the entire body of a handset, could accomplish, and let us know what you come up with in Comments.
Bootnote
Pedantry Alert: Apple's patent filing is entitled "Electronic Device with Wrap Around Display" – but as we explain above, the application doesn't describe a device with a wrap around its display (the filing consistently refers to the device's "housing," not its "wrap"), but rather a device with a wraparound display. Inventor Scott Myers appears to be in need of a copy editor – or, for that matter, a copyeditor.