This article is more than 1 year old
Entire internet credits snapper for taking great pic while actually dead
He was good, says bloke who really took it, but come on
One of the web's best loved classic photographs - universally credited to the great photojournalist Henri Cartier-Bresson - was taken just six years ago, quite some time after Cartier-Bresson's death. Let's meet the bloke who snapped it.
It's an atmospheric image of a girl and a dog on a beach, with a storm brewing in background. Scores of websites feature the photo and credit it to Cartier-Bresson, and include it in collections of his best work. (Such as this one.) The mighty Google Images has no doubt about who took the photo - as you can see for yourself by searching for the French pioneer of street photography.
Cartier-Bresson died in 2004. But we didn't need a seance to verify the identity of the image's photographer. Skype did the job just fine.
The Copylike.org website, an online community for copyright-defending artists, first identified the real author. The picture was taken by Lithuanian-born Andrej Vasilenko on a beach at Nida, a town on the Curonian Spit, while on a photo assignment. The girl is Miglė Narbutaitė, at the time a fellow photography student at the Vilnius Academy of Art. The picture was shot with a Fujica using a 50mm Russian Industar lens.
Vasilenko now lives in Hackney and works as a freelancer photographer.
"It originally didn't have a name, but people began to call it A girl and a dog", he told The Register.
At first he was flattered to be included alongside one of the greats.
"I like Cartier-Bresson. But when I saw how many times it's been reposted, and credited to him, I was less happy."
A few of the websites that included Vasilenko's photograph in collections of Cartier-Bresson's works - such as this one - have since realised that the image couldn't possibly have been taken by the late French photojournalist, but most have yet to notice the error.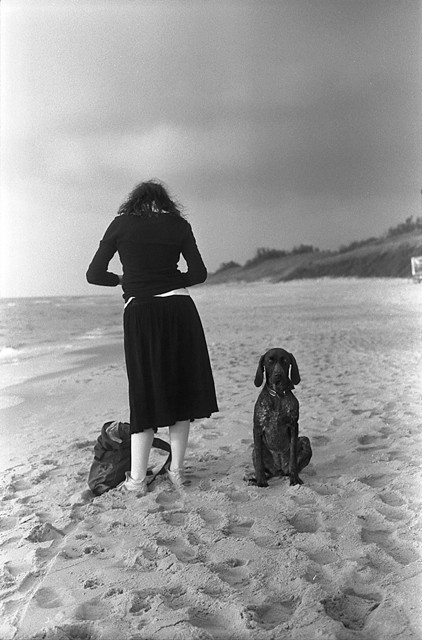 A girl and a dog © Andrej Vasilenko. Used with permission
In fact, if you look closely, you can see that the girl is wearing very modern trainers, and standing beside an equally modern backpack. Cartier-Bresson retired from photography in the early 1970s and only took a few private portraits subsequently. Even though he died years before the above picture was snapped, he still gets the credit. Well done, Internet Hive Mind - and thanks for another triumphant Googlewash.
Vasilenko's picture remains a memorable photo. So shouldn't the real author get the credit, and maybe even some dosh? Internet affection doesn't pay the rent.
Well, therein lies another story.
Getting the correct attribution on images has long been a pain for photographers. The image file's metadata, which contains the attribution information, is stripped from digital photographs, often by large news organisations such as the BBC and Sky, on an industrial scale. It's illegal, but the authorities (as so often in copyright cases) are on the side of the offender, not the victim.
In addition, photographers are starting to remove their photos from the web as radical new collectivisation and new orphan works legislation looms in the UK. The new proposals require a user of a photo that doesn't have the author metadata attached to make a "diligent search" before using the image. Now have a look at what the above Google search produces - there's nothing more emphatic than that. And it's 100 per cent wrong.
As Andrej told the Copylike community in an interview on Facebook:
"I wouldn't mind someone using it, if they ask my permission first. If you put a link to the original source then it's not so bad, but if people could freely use my work without crediting me then I would definitely publish less. I am not a well known photographer and I want more people to see my work, but not if they think it's someone else's." ®
Bootnote
The photo was taken three years before Instagram was invented. No filters were used; it's just a good camera, and a lot of skill.