Pyongyang Photoshop tomfoolery shows wet Norks, skirts blown up
Virtual hover armada storms beach in propaganda pic
---
North Korea's official press agency has been caught with its hands in the Photoshop copy-and-paste jar, in a hopelessly bodged attempt to big up the amphibious-landing capability of the country's hovercraft.
A couple of days ago, the Korean Central News Agency (KCNA) released a snap showing operations by the KPA (Korean People's Army) Large Combined Units 324 and 287 and KPA Navy Combined Unit 597, somewhere on the communist state's east coast.
As you can see, this particular piece of sabre-rattling features some suspicious sabre cloning, with two identical hovercraft about to hit the beach while similarly twinned craft move in the background.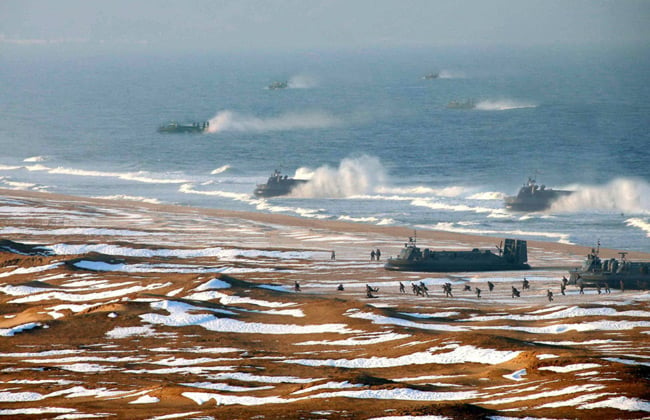 'I think I'm a clone now. There's always two of me just a-hanging around'
The Nork propaganda machine evidently has a long way to go before it can take a stab at faking Moon landing snaps. Its video efforts aren't much better. Last month, it released a "bizarre" video showing a missile attack on the US, complete with footage apparently ripped off from first-person shooter game Call of Duty, and inexplicably backed by an instrumental version of We Are the World:
®
Similar topics
Broader topics