Making connections
The Lenovo Settings tile presents easy shortcuts to common features – albeit rather overdone with the graphics – and Support not only does the usual registration nag but has System Health features too. That said, the Updates section here, reporting no updates installed, didn't seem to acknowledge the time I'd spent updating the firmware and other device specific patches from Lenovo's very own System Update app from the Desktop interface. No doubt another incident where the evil Modern UI neglects to acknowledge its Desktop twin.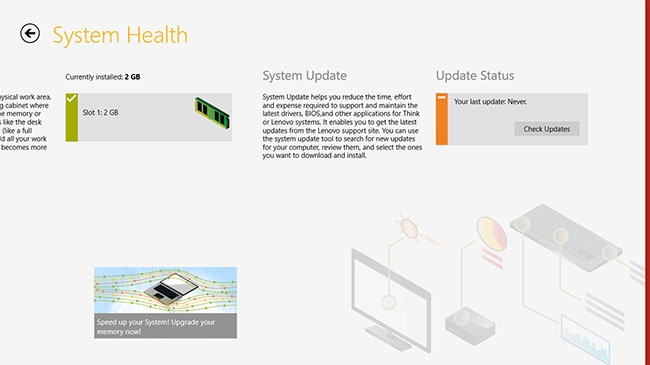 Lenovo System Health suggests there have 'Never' been any updates when plenty have been applied
Thankfully, getting through the slew of updates needed to get the ThinkPad Tablet 2 beyond constant reminders for both the OS and the Modern UI apps store, was pain free. There were no stubborn refusals to update nor the dreaded Error: Failure configuring Windows updates. Reverting changes that dog some desktop installations.
As a PC, the ThinkPad Tablet 2 proved very accommodating with peripherals, which shouldn't come as too much of a surprise, as this is simply Windows 8 Pro sans keyboard. Still, you can remedy that easily enough by plugging one in. Indeed, this is part of its charm: portability meets flexibility. However, there are trade-offs. The touchscreen does involve learning new habits. More often than not, in Desktop Mode, firm presses were required to for simple tasks from collapsing windows to using the back button.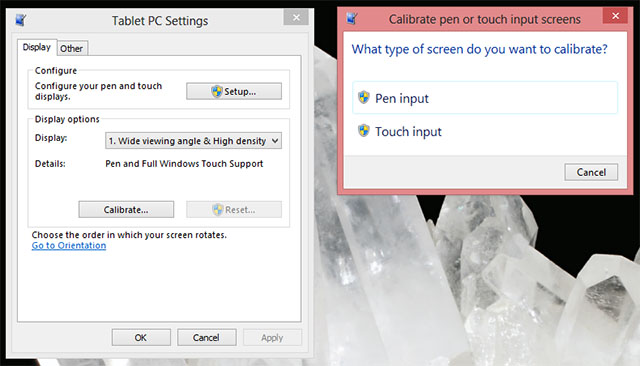 Lenovo ThinkPad Tablet 2 calibration options
Also, depending on where you are, finger pointing will highlight the selection you make (good) or will give no feedback whatsoever (bad). So you can tap on folders in a list and they'll be highlighted accordingly, but go into the Desktop Mode control panel and or a Properties window and you'll probably not get a brief highlight to show that you've tapped on the right thing. It's all a bit random and in some cases longer presses will sometimes deliver highlight indicators, but these delays can be time consuming for something that works so intuitively on a mobile phone.
Again, like any other Win 8 Pro tablet maker, these shortcomings are not the hardware vendor's fault and Lenovo goes some way to address these issues by including a pen. Interestingly, this stylus doesn't require a battery, but it has proximity sensing – so a cursor appears on-screen without contact. There's an assignable button on it too that defaults to right click. In use, it's a bit jittery and it's all too easy to accidentally wave it at a cluster of menu bar items and select the wrong one while you home in on some other function.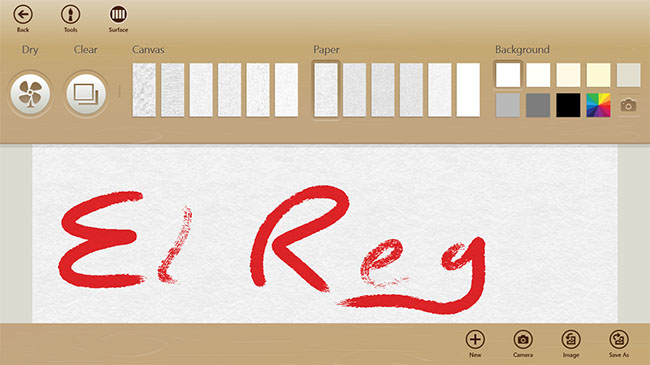 FreshPaint shows off the touch sensitivity
There is a calibration feature though, which does improve matters but like the Sony Vaio Duo, the addition of a pen seems like an afterthought although it makes sense to have it given there is a full-blown version of Windows here. Incidentally, the pen supports 1024 pressure levels which worked well enough in FreshPaint, and the knurled tab end of Lenovo's lightweight stylus stops it from rolling off the table.
OK, so the touch side of things can get tiresome, so what about that flexibility? If it all gets too much, plugging in a keyboard works just fine. It's a shame there's only one USB port, but I used a Mac keyboard with its integral hub to daisychain a standard mouse and there were no excessive power drain issues. It worked fine typing into LibreOffice Writer and, in general use, you'll notice the mouse pointer appear magically when moved and disappear again when the touchscreen gets used.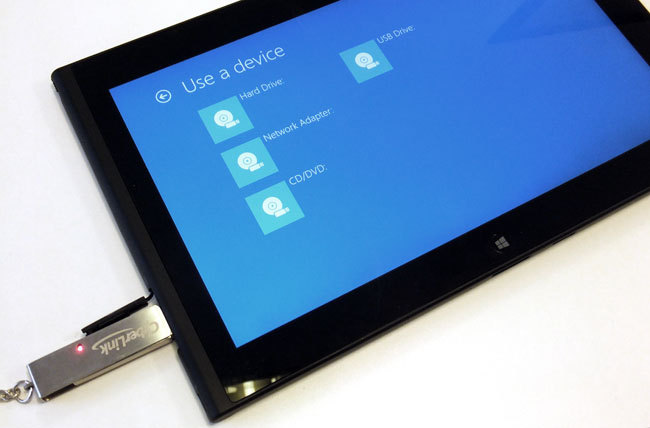 Alternative start-up options are easy to configure, but there's no guarantee they'll work
As there's no wired networking, I tried out a cheap USB 2.0 to 100Mbps Ethernet adapter and it loaded the correct drivers as soon as it was plugged in and began working right away. Well whaddya know, this Windows-in-a-slate-thing works with stuff. I even plugged in a DVD drive and played an episode of Hunderby from it using VLC Player. I didn't have a 32-bit Ubuntu disc to hand so I tried a PenDrive Linux flash drive boot up instead. Yet despite the Tablet 2's capability to choose external boot drives, it wouldn't boot up in Linux.