Touch type trials
As for the sound, the volume is rather subdued but it's not too harsh, thankfully. The two speakers are situated on the bevelled edges at the back, so the audio isn't stifled when it's laid flat. Web browsing is fairly nifty with little cause for complaint apart from the usual issues when viewing Flash rich pages, which could initially stall the browser. These days you also have to watch out for the cookies notifications in the UK, which aren't always so obvious to spot on tablet screens.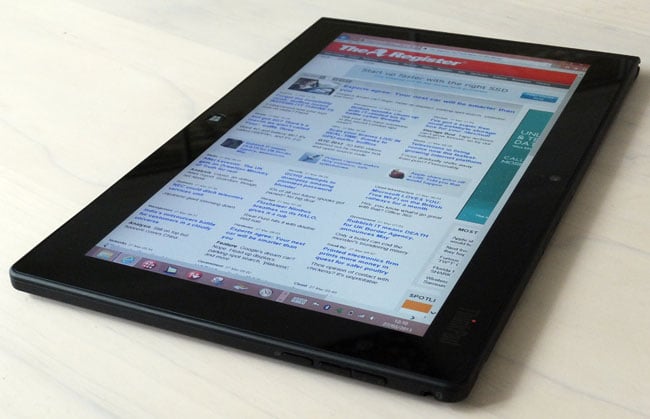 Portrait browsing
Naturally, plumbing in a USB flash drive wasn't a problem and dropping in my iPad's Three micro Sim with a full-size adapter was promising too – shame there's no Three UK usage monitoring app for Win8 yet though. Yet on the road, occasional dropped connections didn't always re-establish and so it was necessary to 'disconnect' and then reconnect to fire up the mobile broadband again. Lenovo's spec mentions 4G support too, but making do with 3G browsing certainly wasn't sluggish with a half decent signal. Back home or in the office, you can revert to Wi-Fi which supports both 2.4GHz and 5GHz bands.
To get an idea of the performance, running PCMark 7 when set up for speed, rather than power saving, produced a score of 1438. This is about 40 per cent below what you'd get from a run-of-the-mill Core i3 mobile CPU. Yet this combination of flash drive and adequate RAM and a decent battery life of around 10 hours makes the experience seem light years away from HDD netbooks of old. Even so, this Wi-Fi and 3G tablet is priced at £700, so you're really paying for that portability.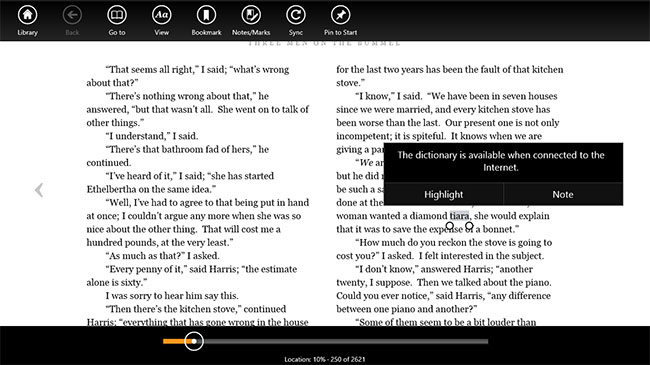 Highlighting text in the Kindle Reader is easy enough, but varies from app to app
Indeed, typing on the virtual keyboard can be a bit of a jolt even though the keys are responsive and sensibly laid out. The problem is the keyboard doesn't always appear when you tap on fields to type into. So you end up having to select it manually and then close it again when you're finished which is tedious given how other tablet platforms behave. In some applications, the keyboard will appear automatically as you would expect, so this is another one of those niggles that you stumble upon.
Correcting typos is another one, and on LibreOffice Writer proved very fiddly to align the cursor on errant words using fingers. The pen comes in handy here but it slows things down. You could just make the font bigger for fingering, but with half the widescreen lost to the keyboard, you'll only ever see a short paragraph this way. And unless you fancy using your thumbs, fast portrait typing is nigh-on impossible.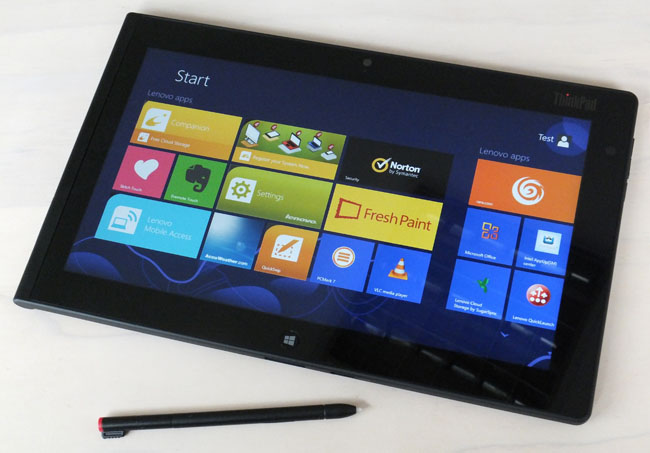 If you stick with the Modern apps, then it's easier to cope without a keyboard
A final word on the cameras – a 2Mp front facing and an 8Mp snapper on the back both deliver decent images in low light conditions. The rear camera will even capture 1080p video although handling a tablet for this task doesn't deliver the smoothest of footage.
The Reg Verdict
With the Lenovo ThinkPad Tablet 2, you end up with is an extremely likable Windows 8 Pro tablet due to its capacity to function with typical PC peripherals when you need it to. As a standalone device though, even if you get by reasonably well wedded to the Modern Interface, its Desktop mode shortcomings soon present themselves as you're bound to end up in there sooner or later. ®

Review: Lenovo ThinkPad Tablet 2
Dressed for business, this Windows 8 Pro tablet features a 1.8GHz Atom processor, 2GB RAM and 64GB of storage, plus micro SD expansion. It has a 3G/4G on board and just enough ports to get by including a full HD mini HMDI if the 10.1in 1366 x 764 touchscreen needs to go large.
Price:
£570 (Wi-Fi only), £700 (Wi-Fi + 3G) RRP