This article is more than 1 year old
Smartphone running 'Facebook OS' said to debut this week
Android to be forked by two companies at the same time?
Facebook has sent out invitations to an event at its Menlo Park headquarters this week that many believe will see the launch of a new, Facebook-branded smartphone – and an Amazon phone may not be far behind.
Facebook's invites themselves were fairly cryptic. "Come See Our New Home on Android" was all they said, along with the date – Thursday, April 4 – time, and an email address for RSVPs.
But according to The New York Times, among others, the event will herald not just another Android app, but a phone running a brand-new fork of Android that places special emphasis on Facebook's social services rather than Google's.
If true, it would be a bold move for the social network. Investors have often criticized Facebook for being slow to adapt to the transition from desktop to mobile. An own-branded phone would serve to demonstrate that Facebook is pushing all its chips forward to become a mobile-first company.
This first Facebook phone will reportedly be built by HTC, which wouldn't be a surprise. The Taiwanese firm previously collaborated with Zuck & Co. on the HTC Status handset, which shipped with a dedicated Facebook button.
The interesting part will be what's going on inside the phone's case. According to the NYT, which cites sources inside Facebook and close partners, the device will boot directly into the user's Facebook home screen, instead of the familiar Android icons.
What's more, Facebook's messaging and camera apps will reportedly form the core functions of the phone, rather than the stock Android ones. The phone's primary contacts list will presumably be the user's Facebook friends, too.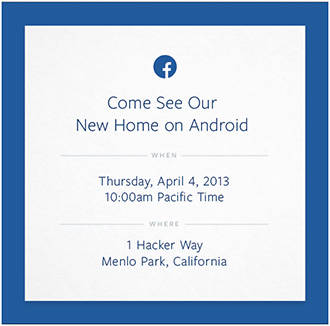 Yes, Zuck really did change his HQ's street address to "Hacker Way"
Just how extensively Facebook's engineers would need to modify the core Android OS to achieve this feat isn't clear. But the social network wouldn't be the first to fork the Android source code, strip out Google's branding, and replace it with its own.
Amazon does something similar with its Kindle line of tablets, which run an Android kernel but swap out a number of Google's apps for custom Amazon equivalents. Equally important, they default to the Amazon Store rather than Google Play.
Can it be a coincidence, then, that Taiwan's Innolux has reportedly been tapped to supply LCD displays for a forthcoming Amazon smartphone?
According to the supply-chain sleuths at Taiwanese tech rag DigiTimes, Amazon is planning a second-quarter release for its mobe, assuming there are no delays with its manufacturing partner, the nigh-ubiquitous Foxconn.
There was no word on whether Amazon's phone will carry the Kindle brand. But it will reportedly feature a 4.7-inch screen, making it much smaller than the company's previous devices, so it's possible the company could choose a different moniker.
Or it could do nothing of the kind. El Reg has covered rumors of an Amazon phone before, and deciding whether to trust a DigiTimes report is a bit like choosing which side will kick off a football match: might as well flip a coin.
Still, if Amazon and Facebook each launch a new phone with a custom-tailored user experience, it will be an interesting test of the smartphone market. Amazon, a giant retailer, has largely designed its devices around buying and consuming content. Facebook, on the other hand, is all about messaging and social interaction. Whichever model customers prefer best will likely set the tone for future product releases across the mobile industry.
Before either device can reveal significant insights, however, they'll first have to move in sufficient numbers to make a dent in the massive sales enjoyed by Apple and Samsung. That's a tall order – just ask Microsoft. ®