WTF is... the Quantified Self?
Human hacking by the numbers
---
Per Arduino ad astra
Aside from the basic price of the rowing machine, the total cost of the Arduino, a Wi-Fi add-on and extra cable connectors, was around £70. Trial and error sessions switching between the proprietary computer and his Arduino enabled Leigh to translate the raw data into meaningful entities: miles, strokes, calories and so forth.
"At this point I was just logging data: how far I'd rowed during a given session, how long the session was. But one of the things I wanted to do was see how far I was rowing in total. That's when I decided to row round the Equator."
Day to day, Leigh plots his virtual mileage on a Google map. At one point he had pondered whether to do his rowing live on a webcam, possibly for charity, but finally decided to keep the enterprise private. "It's about me, doing something for myself; motivating, giving myself a goal. The whole point of doing it was the goal: I just didn't realise the goal was so far away." At the time of his presentation he'd rowed 1500km. The circumference of the Equator is a hair over 40,000km.
Exercise is only one parameter in the tangle of personal data being collected by another London QS group member, Ian Clements. A retired electrical engineer, he's been a QS precursor of sorts since the mid-1970s, doing statistical analysis of the relationship between exercise, his diet, his weight and his body fat.
The QS movement is sometimes confused with the quest for 'digital immortality'. Ian Clements isn't seeking life beyond the grave - he merely wants to find the best way to stay alive. In 2007 he was diagnosed with bowel cancer, admitted to a hospice and given only a few months to live. "My ideas went into hyperdrive to try to measure everything, to see if there was any relationship between my lifestyle and how my cancer was developing," Clements told the London QS Group during his Show-and-Tell.
"The first step is, why are you doing it? What is the problem you are trying to solve? In my case I was focused on how to live longer. I therefore was measuring things like exercise, my supplement intake, my food and nutrition, my treatment, and also the drugs. And I put it all into Excel spreadsheets."
Body of information
Clements' approach is resolutely low-tech. "I normally take my data into ordinary pen and paper first, and then put it into a spreadsheet. It's nice if the measuring devices would put the data into the spreadsheet directly. That would avoid human error. I don't have that sort of device, I'm afraid. The nearest thing is the heart rate monitor, that can be downloaded into a proprietary program. But then I still have to transfer it into the spreadsheet."
Clements highlights an aspect of QS that could have huge future repercussions. The history of medicine has been the history of doctors: they and their medical institutions have been the traditional repositories of knowledge. Processed into Latin, this priestly wisdom has been delivered as a largely incomprehensible magic product to passive recipients who are not expected to understand, let alone question.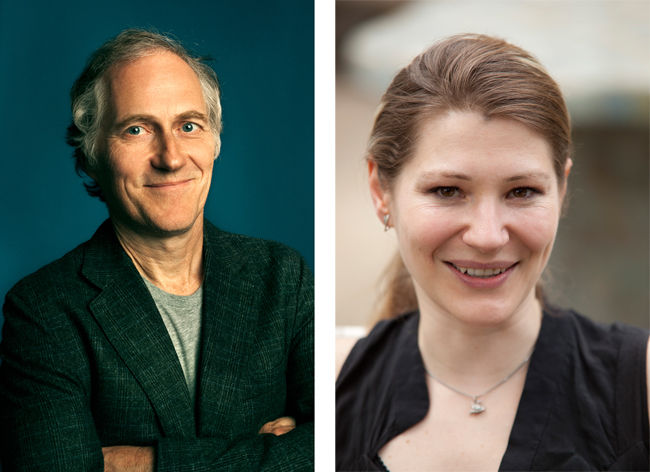 Tim O'Reilly (left) called sensors "the next big thing in technology". QS advocates like Adriana Lukas (right) are making use of them to record the details of their lives
That's been changing over the last half century. But for the definition of what constitutes a 'healthy life-style' we still look to the professionals. Clements, though, isn't putting himself into the hands of doctors and blindly following their advice. He's collecting his own data and trying to draw from it his own conclusions about what he should and shouldn't be doing in terms of diet, exercise, medicine and so on.
As he wrestles with the spreadsheet data he's accumulating he admits to an important shortcoming. Stats applications on the computer can help him find his way, but they're "fearsome to learn", even with his engineering background. "I'm struggling with that side of it. If you have a simple pair of variables, it's relatively easy. The problem is, the variables interact, and I've got hundreds of variables."
The newest statistical techniques, like Taguchi methods, are designed to handle just this sort of problem. Clements is aware that there may be a more appropriate approach, but "I think it might take me too long to learn". In the meantime, he's hoping to share his data with others familiar with new statistics.