Video A team of robotics researchers at Virginia Tech (VT) are using a university swimming pool to show off their latest creation, an autonomous robotic jellyfish developed for the US Navy that's capable of swimming a payload of technology into position off enemy shores.
Dubbed Cryo, the jumbo jellyfish weighs 170lb (77 kg) and stretches five foot seven inches across. It's controlled by a battery-powered DC motor, and clenches its eight silicone-covered linear actuator arms to mimic the propulsion mechanism of its biological inspiration.
"This robot we intend to leave in the ocean as long as we can; weeks, months, or even more if we can," said Alex Villanueva, graduate student at VT college of engineering. "We need something that's very efficient so we can make the energy that we have stored on board last as long as possible."
Jellyfish are some of the oldest multicellular organisms our planet has produced, and while they are uncomplicated creatures, their very simplicity allows them to survive in almost any environment and to use what little energy they can muster in the most efficient way possible.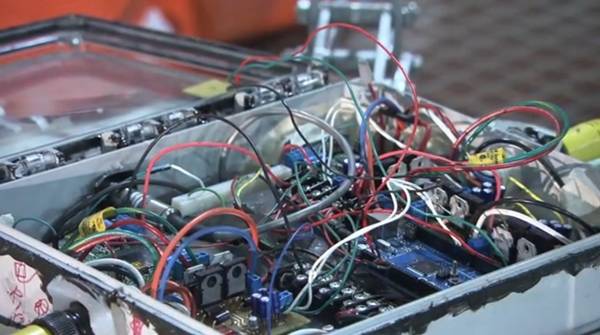 Inside Cryo's electronics control systems
The goal of the project is to make the robo-jellyfish completely autonomous by extracting power from the hydrogen and oxygen in the water that surrounds it. VT scientists have had some success in building an engine that combines hydrogen and oxygen to control shape memory alloy arms, and although a prototype system is built into Cryo, it still requires recharging to keep its electronics functioning.
Cryo's large size means that it could carry a reasonable payload and still maneuver through the water efficiently – if a tad slowly. Possible uses for Cryo are military surveillance platforms or communications relay points that can stay on station, as well as civilian uses such as ocean monitoring and cleaning up oil spills. ®
Sponsored: Ransomware has gone nuclear