This article is more than 1 year old
Second International Cat Video Festival coming to Oakland CA
Somewhere Tim Berners-Lee is questioning his legacy
The second international festival celebrating cat videos will be held in Oakland, California, this May, an event at which grimalkins and their bipedal slaves will spend a day reveling in the art of filméd felines.
No, it's not yet April Fool's Day; there really is an International Cat Video Festival. The inaugural bash was organized by the Walker Art Center in Minneapolis last year, and festival organizers expected a few hundred felinophiles to turn up. Instead, 20,000 attended and spent a day doing all things cat and watching a specially cut art film of the best online cat videos.
"When it came to this year's festival, Walker got requests from around the world for permission to hold the next festival, but they decided that The Great Wall of Oakland was the best fit with the event," The Great Wall's executive director Issabella Shields told The Register. "We've got a similar mission to run innovative arts events."
The Great Wall group organizes a monthly arts gathering in Oakland, and another incentive might also have been the physical Great Wall itself: a 100ft-by-100ft screen, powered by a 15,000 lumen projector. Onto this the festival-goers will watch a specially selected 70-minute film showing the best of the year's cat videos.
"Most people watch cat videos alone, so we think it's fun that people can get together and watch them as a social event," Shields explained. "At the last festival some people even brought their cats along as well."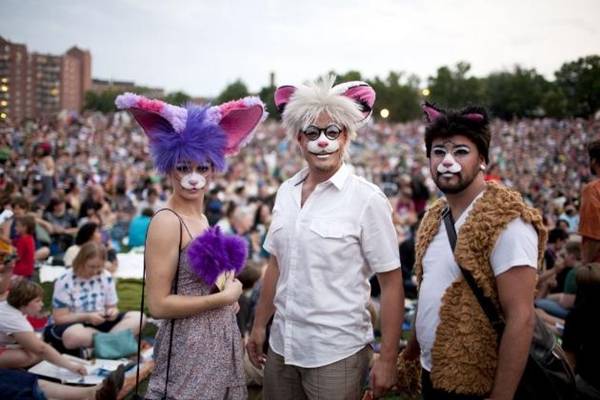 Minnesotans with way too much time on their hands
The festival, sponsored by Pet Food Express, opens its paws doors at 2pm and will includes bands (singing cat-themed songs), stalls manned by local and national vendors (including the somewhat oddly named the Pussies on Parade art stand), a cat-themed airborne dance routine from local troupe Bandaloop, and the announcement of this year's Golden Kitty Award (last year won by Henri the existential cat.)
Special guest stars this year include Dusty the Klepto Kitty, whose cat videos got him on the David Letterman Show last year. So far Dusty's owners claim he has stolen 213 dish towels, 18 shoes, 73 socks, 100 gloves, 40 balls, four pairs of underwear, two mesh bags, one bag of water balloons, eight bathing suits, and other miscellaneous objects.
OK, it might sound silly, but there's a serious side to all this. All proceeds go to the East Bay SPCA, and the organizers estimate that at least 5,000 people will attend. Not bad for a cat festival held in one of the top 10 murder capitals of the US.
Behold our furry masters
How did the internet come to this, you might ask? Cat videos – along with pornography and piracy – have been one of the unintended consequences of Sir Tim Berners-Lee's greatest invention. Some might think the news of the festival has the great man sitting in a darkened room moaning "What have I done!"
But cats have a long record of worming their way into human hearts – when it's in their interests. They are one of the few species that wasn't domesticated by mankind, but instead appears to have self-domesticated because of the advantages it gave them. Most house cats are descended from a pair of friendly wild kitties from the Near East that started hanging around with humans about 10,000 years ago.
Dogs, cattle, goats, and horses were all domesticated by man in different locations and times in history, but it seems that with cats this only happened once. The theory goes that as humanity adopted agriculture, cats would hang around granaries to feed on the rodents that the grain stores attracted.
Humans realized that cats were useful to have around, and eventually cats learned to tolerate humans in exchange for regular food, warmth, and shelter. The average life expectancy for wild or feral cats is at least half of that of their modern domestic counterparts, and house cats have outbred their wild cousins to dominate the species.
Egypt, of course, is famed for its veneration of cats, possibly in part due to the country's reliance on its granaries; other cultures have held cats in similarly high esteem. In the Middle Ages, black cats were associated with witchcraft, and even today their dark descendants are much harder to find adopted homes for.
So how does this translate into the internet age? As a Friday Flier of an idea, this El Reg hack suggests the following theory. Since cats have traditionally been persuaded to coexist with humanity, maybe we still feel the need to earn their devotion, as opposed to dogs who will love anyone who feeds and walks them. Cat videos are just a logical extension of this. Maybe.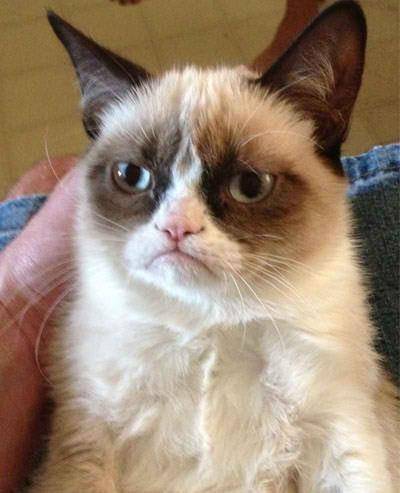 Grumpy Cat, the current cat meme of choice
Whatever the rights and wrongs of the issue, the appeal of cats online is undoubtable. At this year's SXSW technology festival the current cat-du-jour Grumpy Cat was a star guest, flown in first class with its bipedal slave for a rumored $10,000 booking fee. Long queues of people waited patiently for their chance to get photographed with the cat before it was whisked off to film a commercial.
Like it or not, it looks like cat videos will be around longer than most internet memes, and this latest festival looks to be a long-running thing – for good or ill. It'll certainly be around longer than the Harlem Shake. ®