A mysterious green meteorite with a unique geological signature may have arrived on Earth thanks to an explosion on the surface of the Solar System's smallest planet, Mercury*.
The meteorite, dubbed NWA 7325, is actually a 345g package of 35 extraterrestrial stones formed around 4.56 billion years ago that were found in the southern deserts of Morocco last year. According to a paper presented at the 44th annual Lunar and Planetary Science Conference in Texas by meteorite scientist Anthony Irving, the sample looks to be our first recorded visitor from the Sun's closest planetary neighbor.
"It might be a sample from Mercury, or it might be a sample from a body smaller than Mercury but [which] is like Mercury," Irving said, Space.com reports.
The sample, with a "chartreuse-colored fusion crust," has the lowest magnetic intensity of any meteorite yet found, which is consistent from data sent back by NASA's MErcury Surface, Space ENvironment, GEochemistry, and Ranging (MESSENGER) orbiter, Irving said, and is very low in iron, an element Mercury looks to be lacking.
Transfer of material from one planet to another is surprisingly common, and samples of rocks from Mars and the almost-planet Vesta have been identified in meteorite specimens by looking at the chemical composition of the rock and matching it – as far as possible – to its source. Using similar methods, NWA 7325 looks to be a Mercurian candidate.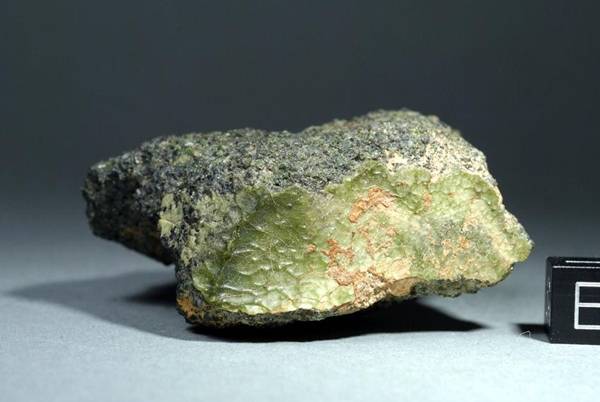 First rock from the Sun?
The escape velocity (the speed needed to get out of a planet's gravity well) of Mercury is 4.3 km/s, less than that of Mars, and Irving postulates that the meteor formed as "scum" on top of a magma field and was ejected by either a volcanic explosion or impact from another body.
But all this is going to remain in the realms of hypothesis until we get more data back from Mercury, Irving explained. The Messenger probe, our first to the planet, has now completed its primary mission of mapping the planet's surface, and NASA is trying to get funding to keep the program running.
"We now have a healthy spacecraft in orbit around a planet that will not be visited by spacecraft again for more than 10 years," said principal investigator Sean Solomon of Columbia University's Lamont-Doherty Earth Observatory last month.
"Our scientific plans for a second extended mission build on past discoveries, can be accomplished with planned orbital observations, span an unprecedented phase of the solar cycle, and include extraordinarily low-altitude campaigns that will offer spectacular new views of Mercury's surface and near-surface environment. We hope that NASA will support the continued investigation of the most enigmatic of the inner planets."
The Messenger probe has sent back some remarkable data, including the existence of numerous volcanoes on the rocky crust, the discovery of ice in polar craters that close to the Sun, and a very sweet but mathematically-probable smiley face on the planet's surface. It'll be at least a decade before another mission is sent to Mercury, assuming funds can be found.
Nevertheless the probe's potential remains, and if Washington could get its funding sorted out we might find out if NWA 7325 is a valid sample or just an offshoot of another galactic flash in the pan. ®
* Bootnote
Sorry, Pluto fans – you lost your "smallest planet" bragging rights in August 2006.