BitTorrent opens kimono, gets out one-to-many streaming tool
Has Bram finally cracked what the BBC couldn't?
---
BitTorrent's live streaming protocol has finally emerged into the daylight after years of development. The beta program is now public. You can try it.
The broadcast data is assigned to small groups - "clubs" - which then share the stream with a UDP protocol. Congestion control is added at the last hop.
There's more detail in this excellent technical post on BitTorrent Inc's engineering blog.
Multicast transmission is ideal for one-to-many broadcasting, and was tested by the BBC and others in the 1990s. But it required router support and buy-in from ISPs. And getting real-time streaming up to the quality required to handle commercial-grade video has taken a long time too.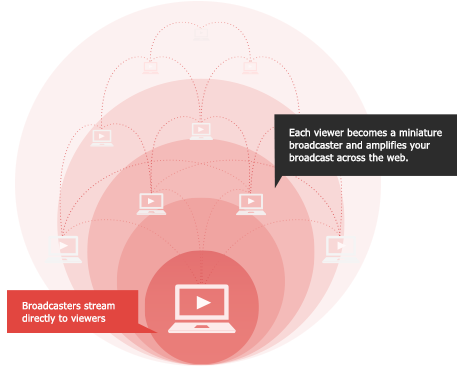 "So far, the one thing cable infrastructure has managed to still do better [than streaming] is live broadcasting. But the BitTorrent Live technology makes it practical to move that to the internet without being cost prohibitive," said BitTorrent founder Bram Cohen in an interview with TorrentFreak.
"We plan to shape the future of live broadcasts and want to work with broadcasters to accomplish that."
BitTorrent Live will be free to publishers and end-users, but BT Inc will discourage competing implementations. Patent application 13/603,905 was filed by Cohen last September and is awaiting approval. You won't find anything in it that isn't better explained in the engineering blog post.
Putting high quality, low cost transmission tools in the hands of individuals and small groups is an exciting prospect. Particularly since the potholed public internet isn't capable of high quality video broadcasting - you need to use a CDN (Content Delivery Network), or even better, own one. Google kicked the net neutrality campaign in the nuts three years ago, and today operates the largest private network in the world, to carry its YouTube traffic.
You can register here to try BitTorrent Live. Let us know how it works for you.®