This article is more than 1 year old
Sync'n'share specialist Egnyte signs senior staff to spark growth
Spanking fresh executives - that's the route to success
Cloud storage and sync'n'share startup Egnyte is trying to ignite its growth rocket boosters by adding fresh new executives and board directors.
Egnyte was founded in 2007 and provides what it calls "enterprise-class file sharing" to around 30,000 customers, storing some 12PB of their data in three data centres, two in the US and one in Amsterdam.
Customers can store their data in the Egnyte cloud using the Egnyte Cloud File Server (CFS) and Object Store. The CFS provides file sharing, transfer, collaboration and back-up facilities. Customers can also use Amazon S3, Google Cloud Storage or Microsoft Azure cloud services, or a NetApp StorageGrid back end, Egnyte being a proponent of the 'hybrid cloud'.
Egnyte CEO Vineet Jain told me: "It's a fact that the overwhelming majority of Fortune 500 companies use multiple on-premise storage vendors and at least one cloud storage provider. Egnyte has the only file-sharing solution available to give enterprises the choice and control across their diverse storage environments."
Egnyte will also add support for OpenStack clouds in the future.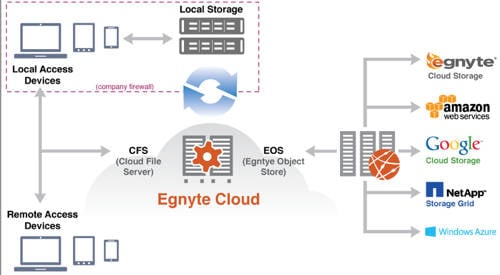 Jain believes the cloud is not enough and on-premises equipment is also needed for fast data access. "You need in-the-office performance," he admitted. "You need to get data close to the device consuming it."
On-premise storage products supported by Egnyte Cloud include NAS products from EMC, IBM, Iomega, Netgear, NetApp and Synology.
The company received $16 million in C-round venture financing in July 2012, mostly from Google Ventures and with additional support from existing investors Kleiner Perkins Caufield & Byers (KPCB) and Polaris Venture Partners.
March 2011 saw $10 million of B-round cash fielded primarily by KPCB, with additional support from previous investors Floodgate and Polaris. The previous A-round funding, from Polaris and seed investor Maple Investments, amounted to $6 million in July 2009. This is a classic startup funding pattern so far, with $32 million received after the seed round.
In 2012, Egnyte's customer base grew 200 per cent and it saw 300 per cent revenue growth, year over year. Unlike Dropbox, Box and other rivals, it has no freemium product, only paying accounts. Its 30,000 business customers represent more than one million paying seats, including one 35,000-seat deal.
Now the company has recruited big hitters, adding them to its board and exec ranks:
Michael Klayko, the former CEO of Brocade, joins the board. He is currently the CEO of MKA Capital, a technology investment company.
Tom Reilly, former CEO of ArcSight and board member of Eloqua, becomes a Board Advisor.
Barry Phillips becomes Egnyte's chief marketing officer, coming hotfoot from Wanova, and Citrix before that.
Steve Sutter is now Egnyte's CFO.
Egnyte's strategy involves providing file access and synchronisation on the BYOD devices a business' employees bring in to work; a wrapper around the existing on-premise NAS products to provide private cloud services; and public cloud services, both its own and in partnership with the major players because it recognises that if you can't beat 'em, join 'em.
It's an interstitial supplier making its revenues by providing file sharing and cloud access glue embracing on-premises filers and off-premises cloud storage. There's room for lots of growth there. If it is going to continue growing its own cloud then it needs to establish more data centres, perhaps in the Far East with another in Europe. ®