Microsoft's summer update will be called Windows 8.1
'Windows Blue' to see return of old-school version numbers
Microsoft has thought long and hard about what to officially call the forthcoming Windows 8 upgrade package codenamed "Windows Blue", and the verdict is ... Windows 8.1.
So sayeth veteran Redmond-watcher Mary Jo Foley, who cites an anonymous tipster.
Lending credence to the rumor, Foley directs us to a Twitter post made by one @AngelWZR on Tuesday, which shows a screenshot from a recent build of Windows Blue bearing the new version number.
Assuming none of this is a leftover April Fools' hoax, this will be the first time Microsoft has used old-fashioned point-release version numbering for Windows since Windows NT 4.0 in 1996.
The company has tried various branding schemes for its OS since then, including naming the version after the year in which it was released (Windows 95) and coming up with fanciful monikers (Windows Vista), before settling back on numeric versioning for the last two releases.
While Windows 7 never had a minor version number, Redmond has apparently decided to resume the practice for Windows 8.
That choice makes some sense, given Microsoft's stated aim to ship a new major upgrade for Windows every year, rather than revamping the OS every few years as it had done previously. Presumably, we may yet see a Windows 8.2, 8.3, or further before Redmond finally delivers a version deemed worthy of being called Windows 9.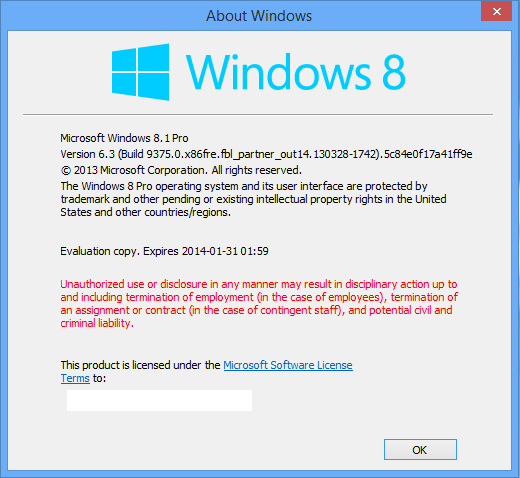 Not your father's Windows 8? (source: @AngelWZR)
According to Foley, the main branding for the OS will remain "Windows 8" and the minor version numbering will be secondary – a bit like how Apple has released multiple, consecutive versions of OS X.
Similarly, Foley's sources say Microsoft plans to refer to the Blue update for the ARM flavor of its OS as "Windows RT 8.1." There was no word on what the Blue update for Windows Phone might be called, but feel free to draw your own conclusions.
So far, Microsoft has said nothing official about what the Blue updates might bring, other than to acknowledge that the project exists.
If Foley's sources are correct, however, we can expect to see a preview release of what will become Windows 8.1 at Microsoft's annual Build developer conference, scheduled to take place in San Francisco from June 26 to 28. The final version of the update is expected to ship around August 2013. ®