For a non-volatile storage medium flash development sure is volatile, as attendees at a distributor conference found out.
Aaron Rakers, managing director of analysts Stifel Nicolaus, attended the conference and sent out a despatch from it that contained a mouth-watering array of tit-bits.
The distributor had suppliers of hybrid flash/disk drive arrays at the conference and all emphasised the growth of digital content.
Statistics were bandied about that would have been breath-taking a year or two ago but are now ordinary:-
In every minute;
- More than 600 videos are uploaded to YouTube
- More than 13,000 hours of music are streamed via Pandora
- 168 million emails are transmitted
- 695,000 status updates are added to Facebook
- 695,000 Google searches are also made.
More ordinary enterprises are seeing or going to be seeing dramatic growth in digital inputs coming their way and will need to respond.
HP
HP has photonic inter-node backplanes coming with an Apollo launch later this year, to speed data transfers between compute, storage and networking nodes in a converged system complex by sending light signals instead of electrical ones.
Data access via flash is much faster than disk drive data access but the data bottleneck is moving to the network. Transferring 1TB of data takes, HP says:
- 12.7 minutes over a 10Gbit/E link
- 15.9 minutes with 8Gbit/s Fibre Channel (FC)
- 3.4 minutes with 40Gbit/E.
By extension it would take just under 8 minutes with 16Gbit/s FC and just under 4 minutes with 32Gbit/s FC. A photonic-integrated fabric architecture might achieve 1TB/min or an even shorter time.
HP said it expects to ship Memristor storage as a denser (higher capacity in the same space) alternative to flash, by the end of this year in commercial applications. This is a faster schedule than has previously been indicated.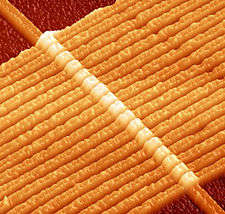 A Memristor
HP would have us understand that floods of incoming data are going to be literally flashed around a Converged Infrastructure system using photonics and stored for processing in Memristor silos.
HDS
Hitachi Data Systems believes it can drive the cost of MLC (2-bit multi-layer cell) flash to parity with high-performance SAS disk drive cost by the end of 2015. It thinks it can do this using its (Hitachi's) proprietary ASIC controller to significantly extend MLC flash's working life. In this it differs from EMC which sees MLC flash costing 8X more than SAS disk on a $/GB basis in 2016.
HDS will, it says, launch a 3.2TB flash module within weeks or a low number of months, doubling its current 1.6TB size, and will move to 6.4TB modules in 2014. This is aggressive and will give HDS a huge cost advantage over other flash suppliers.
If this is real, if HDS really does have unique exceptional MLC flash controller technology, and ships all-flash arrays using it, then it will put other all-flash array suppliers under severe competitive pressure.
If Memristor technology is used to build shared storage by HP then we could expect to see an HP Memristor array competing with an HDS super-MLC flash array
Dell
Dell expects to launch a multi-server coherent PCIe flash cache capability later this year, using its Express Flash technology, using 2.5-inch PCIe SSDs, thought to be supplied by Micron. This will be integrated with its Active System Manager (ASM) Appliance strategy and would probably mean the ending of Dell supplying Fusion-io flash.
ASM is a converged infrastructure management platform which defines workloads and provisions server, storage and network capabilities. It supports EqualLogic storage now. Compellent support is expected in the next few months. ASM has open APIs and Dell is hoping this will encourage third-party array support.
NetApp
NetApp conversations hinted at earlier FlashRay product ship, with introduction in the second half of this year rather than at some time in 2014. They also suggested that the FlashRay operating system would reflect some kind of convergence between the EF540 flash array's Engenio SANtricity operating system and ONTAP; perhaps ONTAP's ASIS deduplication would feature in it.
There might also be, Rakers thought, support for unified file/block storage and scale-out.
A final tit-bit coming from Rakers was that the Greenbytes VMware VDI plug-in, with its deduplication and compression, could enable a 340GB raw capacity SSD to have a usable capacity of up to 40TB - in an extreme case. You'd best test that claim out on a non-production server.
A take-away from this conference is that specialised technology promises to beat commodity technology, as with HP's photonic backplanes vs Ethernet, InfiniBand and Fibre Channel, and its Memristor non-volatile memory vs flash.
Supporting this idea is HDS' proprietary MLC Flash ASIC controller. These three technologies have got to deliver the goods before we can say the commodity technology dragon has had some of its fire put out. ®