Rohan Silva, the Downing Street wonk behind the fabulous soaraway Silicon Roundabout, is leaving politics to join a venture-capital firm closely associated with his biggest initiative.
As the Prime Minister's 33-year-old special policy advisor, Silva branded the name Tech City on the cluster of small businesses huddled around London's Old Street roundabout, and appointed an "ambassador" to this so-called Silicon Roundabout.
He then convinced Number 10 that internet startups should be an emblem of the UK economy, translating venture capitalists' wish lists into policy.
Today Sky News reports that the Oxford philosophy, politics and economics graduate will join the European investment firm Index Ventures in June as an "entrepreneur in residence" who'll focus on education initiatives.
"What Tech City is really about at big-picture level is saying, where is it we want this country to be in the next 10 years," he told the Independent last year.
"All the global tectonic plates are moving in London's direction," he added ominously. He again demonstrated his talent for metaphor to WiReD magazine the other month:
I think a tech scene is probably a bit like a fine cheese – there's a moment when it all comes together. I think it's really about to explode.
There are two serious question marks against the coalition government's strategy.
Firstly, there is no evidence that clusters of successful tech companies can be willed into existence by state intervention. They tend to form around high-quality universities whose bright graduates have access to capital: for example, Stanford in California, and Cambridge and Manchester in the UK.
The second questionable assumption is that web startups are examples of either risk-taking entrepreneurship or a promising sector for long-term wealth creation. Experienced VCs certainly disagree, dismissively describing the Silicon Roundabout ventures as "leisure startups". Even less charitably, the dabblers are described as "nontrepreneurs".
In VC jargon, the upstarts are urged to "exit" as rapidly as possible rather than hang around and create profits and jobs. The London tech hub hype has yielded precious few successful profitable businesses.
Yet Silva certainly had his supporters in the media, who were willing to overlook these minor concerns.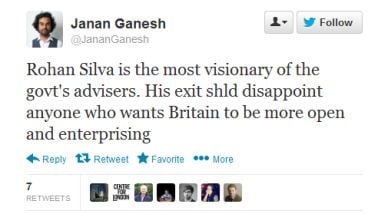 Janan Ganesh, George Osborne's biographer, mourns the departure of Silva
"Rohan Silva is the most visionary of the govt's advisers. His exit shld disappoint anyone who wants Britain to be more open and enterprising," tweeted Financial Times journalist Janan Ganesh. "Rohan was on the ambitious end of the policy spectrum, fizzing with ideas and a hunger to change things," sighed the Telegraph.
Yet some people undoubtedly are making a killing from the Silicon Roundabout hype that Silva helped stoke. One sector to benefit is commercial property: Google's arrival in the area has inflated rents. This is ironic because startups typically need low rent to get by.
The other booming sector is support services to the wannabe web entrepreneurs. For instance at Index Ventures - Rohan Silva's new employer, lest we forget - partner Saul Klein (also the UK's tech envoy to Israel) founded the Seedcamp investment organisation and now has a network of 2,000 "mentors" around the world, all on hand to help entrepreneurs.
Index Ventures' Robin Klein has also lobbied to relax the rules on internet companies going public on the London stock exchanges, "to create a healthy IPO market".
Silva boasted of being the messenger boy carrying the capitalists' memos to ministers. A Shoreditch blog reported that:
Silva was told by Seedcamp's Reshma Sohoni that Britain needed entrepreneur visas and this was fed straight back to the PM and put on the agenda.

Index Ventures' Robin Klein also urged Silva to address the problems for high-growth firms launching on the London Stock Exchange. This, Silva tells me, was acted on and led to the exchange's new high-growth segment, which is now under review.
As they say, it's all about who you know. ®