Steve Jobs' 'spaceship' threatened by massive cost overruns
Will shareholders balk at $5bn price tag? Stay tuned...
Comment It appears that the late Steve Jobs' dream of new "spaceship" Apple headquarters is going to cost far more than the $3bn originally planned – that is, if it gets built at all.
That price tag has ballooned to $5bn, Bloomberg reported on Thursday, citing "five people close to the project who were not authorized to speak on the record."
Bloomberg also points out that if that quintet is correct, Jobs' spaceship – which he referred to as being possibly "the best office building in the world" when presenting his plans to the Cupertino city council on June 7, 2011 – would also be the most expensive office building in the world, eclipsing the massive $3.9bn World Trade Center complex now under construction in New York City.
The vast, four-story, 2.8 million square-foot circular edifice – which Jobs described as being "a little like a spaceship" – was originally scheduled to be ready for its planned 13,000 occupants in 2015, but that date has since been pushed back to 2016.
Although preparation for construction at the Cupertino site is said to be scheduled to begin this June, The Reg can't help but wonder if disgruntled Apple shareholders will lobby for a rethinking of such a gilded lily as they watch their investments continue to shrink.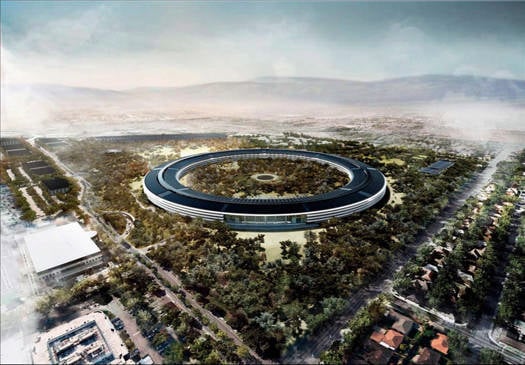 Jobs' dream campus – or is it a mirage? (click to enlarge)
For example, Bloomberg quoted an exec at one investment group as grumbling, "This is rubbing salt in the wound, to spend at a level that most anyone would say is extravagant, at a time when they're being so stingy on dividends."
That said, it's instructive to remember that on the day that Jobs gave his presentation to the Cupertino city council, Apple's stock closed at a mere $332.04 per share, and there was no shareholder revolt at that time – at least not one that was in the open.
Perhaps the mood among investors was more bullish in mid-2011. If so, that bullishness was justified – for the immediate future, at least. After Jobs' June presentation, Apple's stock subsequently soared to a peak of $702.10 on September 19, 2012 – but it has since slipped precipitously, and as we click Publish on this story is sits at $427.24, having dipped to $425.25 earlier in the day.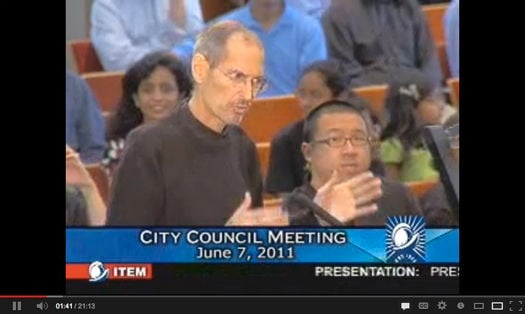 Four months before his death, Steve Jobs presented his plan to the Cupertino city council (click to view video)
It's instructive to remember that among the Wall Street moneymen, the old baseball adage of "You're only as good as your last at-bat" is turned on its head; to investors betting on a company's future, you're only as good as your next at-bat – and although Apple may have hit a pair out of the park with its iPhone and iPad, Samsung and others are now tossing hard cheese at Tim Cook's head.
Note to our UK readers: we use that cheesy reference in the American sense of an exceptionally well-thrown fastball, and not in the British sense of bad luck – although it could be argued that both meanings might be appropriate in this case.
But we digress... What is clear these days is that Apple's investors are getting increasingly cheesed-off [Enough with the cheese!—Ed.] at Apple's reluctance to share with them a large enough slice of its Brobdingnagian cash horde, which stood at a bit over $137bn when Apple filed its most-recent SEC report this January.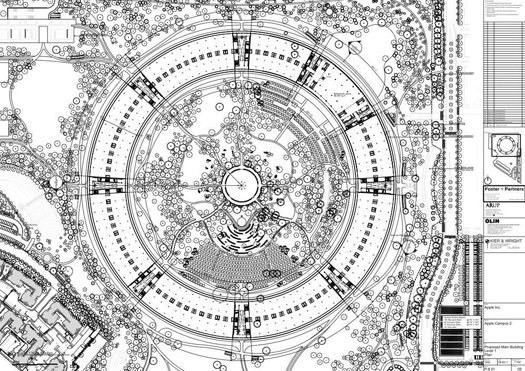 Grand design or grandiose boondoggle? (click to enlarge)
One investment exec – Greenlight Capital's David Einhorn – even took Apple to court over a move by Cook & Co. to make it more difficult for Apple's board to issue the preferred, dividend-bearing shares that Einhorn was pushing. Cook derided that move as a "bizarre" and a "silly sideshow" – a characterization with which a New York District Court judge did not agree.
Clearly, dissatisfaction is brewing among Apple's institutional investors, and cost overruns on Jobs' spaceship might be the spark that ignites a larger revolt – despite the fact that, Bloomberg reports, Apple is trying to shave a cool billion off the construction costs.
When introducing his gilded, eco-friendly dream project, Jobs told the Cupertino city council that it was "Not the cheapest way to build something." Perhaps Apple's investors, its board of directors, or its executives will now scale back their ambitious plans, even beyond the $1bn they're now trying to save.
We'll keep an eye on the 176-acre site bounded by Interstate 280, North Wolfe and East Homestead Roads, and North Tantau Avenue, and let you know when – or if – the earth-moving equipment begins to appear. ®