Facebook skins Android with Facebook Home
Zuck on this, unless you care about privacy
Facebook has taken over Android with an application named Facebook Home that slaps a social façade on top of Google's operating system.
As expected, the app turns a phone's lock screen into a rolling news feed, implements a new form of social messaging named "chat heads", and sees an entire social-oriented user interface take over the Android operating system. Facebook announced the app at a packed press event at its Silicon Valley headquarters on Thursday.
Facebook Home will be available to download in America on April 12 and will be rolled out worldwide after that. The app is initially available on Android phones running "Ice Cream Sandwich" and "Jellybean," but it doesn't work with "Gingerbread." In time, it will make its way onto tablets, as well. There are no immediate plans to bring it to other operating systems.
Supported handsets include the HTC One X, HTC One X+, Samsung GALAXY SIII, Samsung GALAXY Note II, and the forthcoming HTC One and Samsung Galaxy S 4, with other devices to gain support "in the coming months."
Carriers and mobile makers are joining hands to produce a variety of handsets that come pre-loaded with the software, Mark "A Facebook Phone Just Doesn't Make Sense" Zuckerberg said.
The initial Facebook Home phone (FaceMob? SocialSlab?) will be the HTC First, which is due to come out on April 12. The phone will cost $99.99 and be available exclusively on AT&T. There are plans in the works for other phones by other operators in other countries, and though the company didn't give specific information, a slide showed names of UK operators like EE and Orange.
Facebook Home is the company's attempt to ensnare the next billion or so internet users via a "mobile first" strategy, Zuckerberg indicated.
"We think this is the best version of Facebook there is," he said, before stressing that in five to ten years a billion internet users will have no idea what a traditional computer is, as they will have grown up using tablets and smartphones.
With Facebook Home, the company wants to get to these people early and teach them about sharing from a young age. It's an effective business strategy, and in this vulture's opinion it's roughly equivalent to the philosophy of marketing espoused by all the major fast food brands: make the product easy to get, put it amongst the target audience's peers, and price it at a level that affords maximum dissemination.
"The very definition of what a computer is and what our relationship with it should be, hasn't been set for the majority of the world, and when it is I think that definition is going to be around people first," Zuckerberg said.
And Facebook hopes its definition of "people first" – that is, software that creates an ever-present connection to family members, friends, acquaintances and the other denizens that cruft up any social profile – is the one that will win over customers.
"This is a deeply technical problem and it is also a deeply social problem. This is the kind of work that Facebook and our culture and our community is deeply built to do," Zuck said.
As with all Facebook events, the company spun the product as being about connecting people and didn't go into details relating to monetization. Facebook Home will not display ads at the start, but may do over time, the company's head of product Adam Mosseri confirmed to the press after some gentle probing.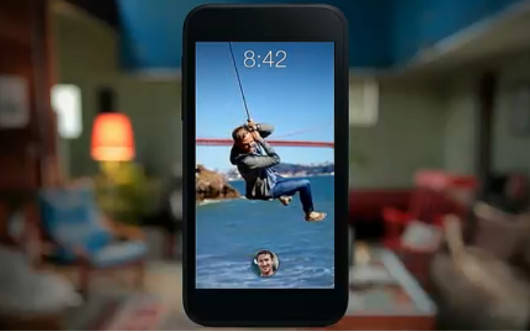 Look, ma, no privacy!
The app also represents something of a privacy nightmare, as it turns the lock screen into an endless streaming display of what the user's friends are doing. None of the staffers demoing the app were able to tell us if it's possible to put a lock screen in front of this, so as to defend against socially-engineered attacks.
When we asked the company's head of PR, Elliot Schrage, whether the company was introducing measures to let people hide this, he was nonplussed.
"This is a tool for access," he said. "The phone is designed for people that want the experience."
Translation: if you have concerns about privacy and/or socially-enabled attacks on your own identity, those of your friends, or your organization, then this is not the app for you, bucko. But if you're either a keen user of social networks, or a young person just starting out in the digital world, then boy oh boy Zuck & Co have just the thing to hook you. ®