Mars to go offline for a month as vast nuclear furnace gets in the way
Ha ha, chuckle Martians, time to play!
Spacecraft exploring and orbiting Mars will be left alone for the next month as the red planet slips behind our nearest star for a bit of a spring break.
The Sun will block radio signals for a month or so, something familiar to old hands such as Mars Express, which has been happily orbiting Mars for almost a decade. It is, however, a new experience for the nuclear-powered NASA tank Curiosity which only landed seven months ago and has been in constant contact since.
Communications with these craft are lost quite regularly, and rovers like Curiosity and the venerable Opportunity are parked up for the duration while orbiters cache what data they can for transmission once contact is re-established.
"We've been through this before," the chief Mars scientist at the NASA Jet Propulsion Laboratory told The Associated Press, "We're not expecting to have any problems during this period. Let's hope it stays that way."
The 'Press also tells us that in contrast to previous blackouts, Mars Odyssey, which has been orbiting the planet since 2001 will attempt daily contact with the Earth despite the small problem of a giant blazing nuclear furnace being in the way.
This is just to see how long contact can be maintained and how quickly it can be re-established, but the other machines of humanity active at the red world will keep schtum until there's a clear line of sight back to Earth.
The Mars Reconnaissance Orbiter, which arrived in 2006, has been making a name for itself lately with pictures of Curiosity's discarded landing parachute blowing in the Martian wind: photographs of other spacecraft might be a little narcissistic, but they're strangely fascinating.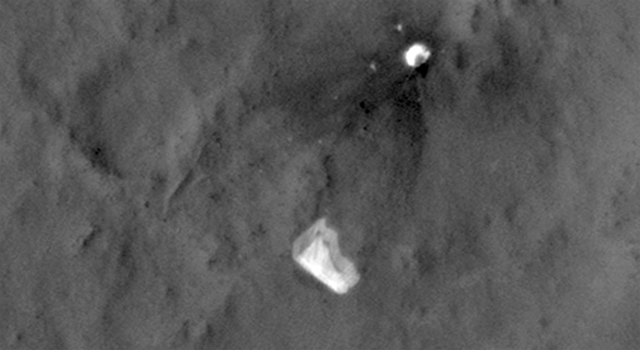 It's not real time - that flapping took three months -, but it's still impressive
Follow up snaps will have to wait until May, when the big shiny ball of fiery goodness has moved out of the way. ®