This article is more than 1 year old
Review: Intel Next Unit of Computing barebones desktop PC
Is Chipzilla's nano machine too polished to rival the rough'n'ready Raspberry Pi?
Intel must really like the sound of its own 'voice'. How else can you explain the fact that sliding open the box containing the chip giant's latest desktop package plays the ding-da-ding-ding-ding jingle as soon as you open it. Amaze your friends! Irritate your colleagues! Keep opening and closing the box to replay the ditty over and over and over...
Remove the cover entirely and you'll find within one of two tiny desktops in a form-factor Intel calls "the Next Unit of Computing... the shape that fits the future". That means a 113 x 110 x 38mm box that, judging by bundled VESA monitor attachment plate, is in part intended to be tucked out of the way behind a screen.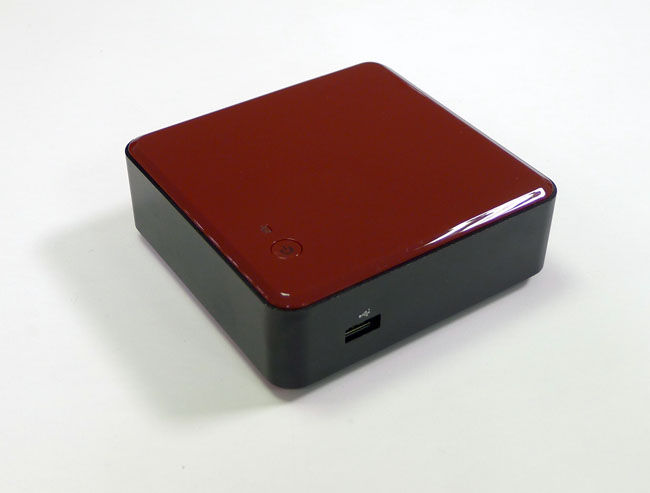 NUC and pave: Intel's micro-sized barebones Core i3 PC
There are two types of NUC, both in the same casing. The one I have here comes with an HDMI 1.4a jack, a DisplayPort 1.1-compatible Thunderbolt port, but no Ethernet. The second model has two HDMI ports and a Gigabit Ethernet port. Both have three USB 2.0 ports. There are headers for two more on the board, a QS77 chipset-based affair that's common to both machines, but on my sample the header pins were absent, so I'll need to get the soldering iron out if I want to make use of them.
Intel supplies the machine, plus a smallish brick AC adaptor, though no power cable. The power supply unit doesn't use either the figure-of-eight or the kettle connector common in the UK, but one of those rounded, triangular three-socket jobs favoured by some laptop makers.
Of course, since you'll also need to buy storage, memory and - no Ethernet, you see - a Wi-Fi card for the NUC, grabbing a uncommon power cable while you're at it is no big problem. I just think the mains lead is one component Intel really should include. It's not going to knock the margins out of kilter, is it? Perhaps it could have saved a cent or two by not including the Intel theme player.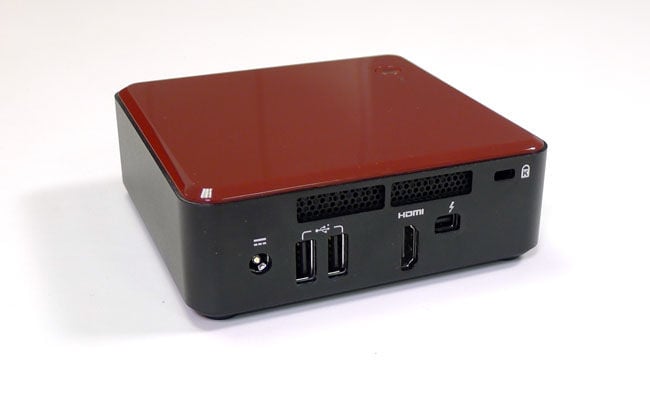 The Thunderbolt NUC has no on-board Ethernet, but there's space for a Wi-Fi card inside
Up to 16GB of 1600MHz DDR 3 goes into two SO-Dimm slots, both readily accessible when you unscrew and remove the NUC's base. There's no full-size Sata storage here, just a full-size mini PCI slot for an mSata card. Beneath it is a second mini PCI slot to take a wireless card, but this one has to be a half-size board. The two sit one on top of the other, bunk-bed fashion, and Intel has placed a solid metal support to keep the full-size card on top screwed in place. This support prevents you putting in a second full-size card.
There are a couple of antenna fly leads taped to the board. Be careful with these. The metal connections are, naturally, covered with thick insulating plastic. Don't, as I did, try and rip them off - you'll take the tiny antenna connector off with the cover, ahem.
Fortunately, there was a USB Wi-Fi adaptor in the office spares box, so that went into one USB port, a keyboard and mouse into the other two. Crucial very kindly lent me 8GB of memory and one of its m4 128GB 6Gb/s mSata SSDs to complete the NUC's internals.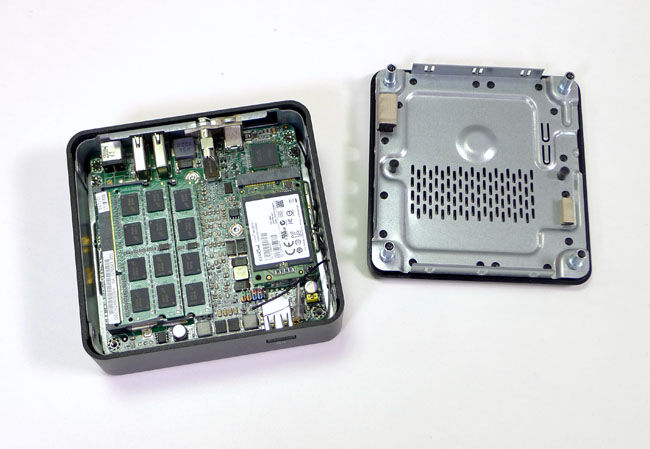 The NUC is easy to open and equip
Put the bits in, reseal the case and you're ready to go. The NUC's wee motherboard has a Core i3-3217U surface mounted on its reverse side so this isn't an upgradeable machine. The CPU is a 1.8GHz dual-core part, though it has HyperThreading enabled so it presents four logical cores to the host OS. Like other Ivy Bridge chips, it has an integrated graphics core, a 350MHz HD 4000 that will clock itself to 1.05GHz if it needs to. The whole lot is rated at 17W, which is handy as there's not a whole lot of room in the NUC for active cooling. Yet the NUC's CPU is actively cooled: there's a small fan unit venting out to the back of the box.
The NUC comes without an operating system. Hooking up a monitor through the NUC's HDMI port, I tried the tiny computer with an Ubuntu Linux Live USB first and was up and running very quickly indeed. I'd be happy to install Linux and leave it at that, but benchmarking requires Windows. Intel provides clear, simple instructions for installing Windows, and installing Windows 7 was straightforward. I also tried Windows 8 Pro, but despite installing all of Intel's driver updates, I was still unable to get a realistic score out of Futuremark's PCMark 7. Windows 8 itself refused to give me an Experience Rating, bailing out on the video part of its tests. Poor video scores led to the woefully low PCMark 7 score too.