Review: Intel Next Unit of Computing barebones desktop PC
Is Chipzilla's nano machine too polished to rival the rough'n'ready Raspberry Pi?
Small stable, low horsepower
None of this was experienced under Windows 7, so I'll quote its PCMark 7 score: 3960, a reasonable result for an Ivy Bridge Core i3 using integrated graphics and with an SSD on board. Microsoft's own Windows 7 Experience Rating comes to 6.2. Again, what you'd expect from this kind of spec.
The bottom line: I can't recommend installing Windows 8, and a long list of Windows Update failures, not just on the NUC but on other Windows 8 machines I've tried, including Lenovo's otherwise gorgeous ThinkPad X1 Carbon, makes me even less likely to do so. Go for Windows 7 if you need a mainstream OS and Ubuntu 12.10 if you don't.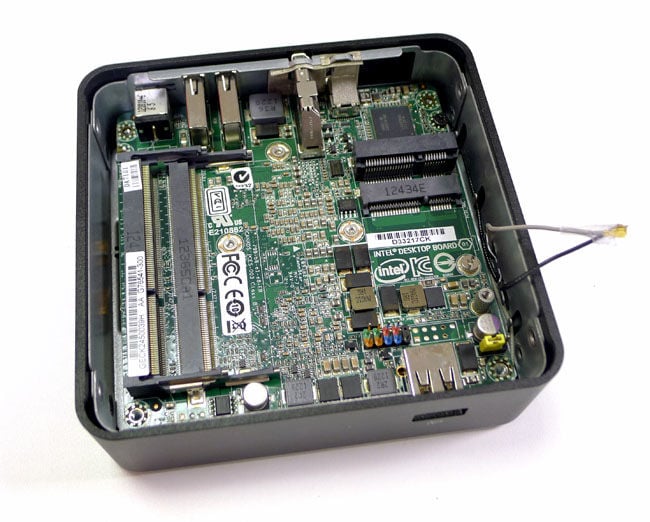 Open it up...
Setting Futuremark's PCMark 7 to do its job shows the limitations of the NUC's limited cooling: it gets very warm indeed. You might even call it hot, though it's not skin-scaldingly so. The fan is generally very quiet, though, and rarely makes much sound at all.
For a more real-world test, I converted a standard definition AVI file into an MP4 using Handbrake, downsampling 5.1-channel audio to stereo in the process. This took slightly longer on the NUC's Core-i3 than it did on the old Nehalem i3 in my regular desktop: around 12 minutes to the NUC's 18 minutes. But then the NUC is running at 1.8GHz, my machine at 3.06GHz.
So the NUC delivers decent performance for a machine never intended to be a powerhouse. It is what it is: a very compact entry-level computer capable of dealing with mainstream tasks and media playback - it had no trouble presenting all the 1080p H.264 MP4 files I threw at it, for instance - not a top-of-the-line desktop. With Ubuntu 12.10 re-installed, I found the NUC made a very decent host for the media centre software XBMC, especially with the XBMC remote app on my phone so I can boot straight to the app and run it without keyboard and mouse connected set-top box style.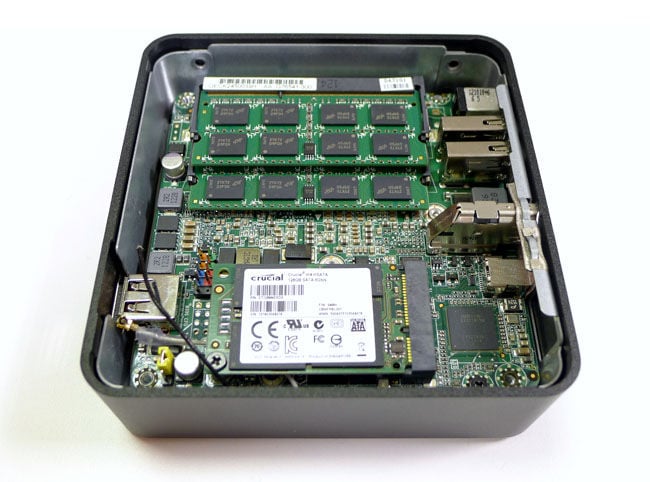 ...and slot in memory and Flash storage
It's not cheap, mind. The base NUC will set you back around £250 for the DC3217BY I have here, or £225 for the DC3217IYE, the version with no Thunderbolt but two HDMI ports and Gigabit Ethernet. I'd choose the latter for the integrated network port - it saves the cost of adding a wireless card in addition to the Ram and storage you'll need. Crucial's 128GB mSata SSD is £108 plus £65 for its 8GB of DDR 3. So that's £398 all in, more if you don't have a spare keyboard or mouse - I'll assume you're hooking it up to a TV you already have - or you want an internal wireless card. Sata SSDs go up to 512GB, but expect to pay ridiculous amounts of money for one of those, which is why Crucial's line stops at its £168 256GB SSD. But, hey, there's always USB external and network storage if you need more.
You can buy a not so very much larger mini PC fully laden for less, though it's bigger and you won't get as powerful a processor as the NUC's: typically an Atom or a Celeron. Similarly compact units are available too, again costing less but with a weaker, VIA CPU on board. Yes, you can also get a 15in laptop for a similar price as a packed out DC3217IYE NUC, but that's not a reasonable comparison. One you buy for mobility, the other for its compact size to sit on a desk, behind a big monitor or alongside a TV - different horses, different courses.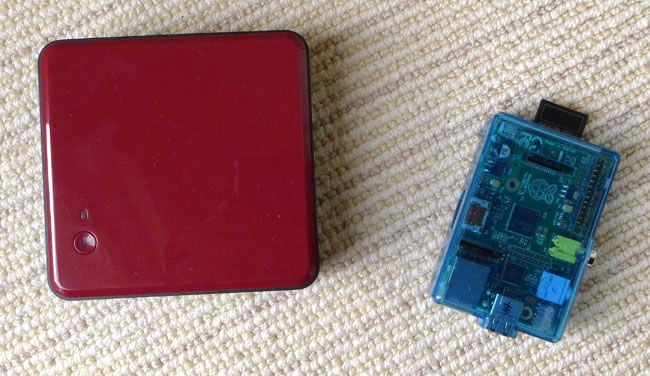 NUC and Pi
The Reg Verdict
Intel has, in the past, suggested the NUC is an alternative to the likes of the Raspberry Pi - an attempt to get the x86 architecture into the novice-oriented computer sphere before the ARM-based Pi establishes that rival processor platform as the de facto standard. Running Ubuntu means there's no reason why the NUC can't be used to learn programming the way the Pi can - just install the likes of Geany and Scratch.
But the Intel box lacks the extra, general purpose IO ports the Pi team has built into its machine - and it's certainly not inexpensive the way the Pi is, though it's much faster. If the Pi is the modern equivalent of Acorn's System 1, a board computer from 1979, the NUC is perhaps more a Sinclair Spectrum or Commodore 64 - a finished product for users of finished software rather than a back-to-basics unit for coders and electronics buffs.
No, NUC is too refined to be a Pi rival. I can see it finding a home as a TV-connected computer for media playback - it runs XBMC nicely, especially with the XBMC's smartphone remote control app - for web browsing or for living room VoIP. It's not the most powerful PC on the planet, but it's more than up for handling this kind of thing, and it's small enough to tuck out of the way. It would make someone a decent office desktop too, especially with the VESA mount to sit it behind a monitor. ®

Review: Intel Next Unit of Computing barebones desktop PC
Memory- and storage-less barebones Core i3 PC in a very compact, 11 x 11 x 4cm casing with dual HDMI and Thunderbolt variants.
Price:
£275 (DC3217BY, reviewed) £230 (DC3217IYE) RRP