Google cofounder Brin sighted in Tesla batmobile
Pink car a fine ride for King Google
Photo Google's cyborg tzar Sergey Brin has been spotted tooling around Silicon Valley in a heavily-customized Tesla Model S, sending reverberations through the tech world at the ad-slinger's auto ambitions.
Brin put peddle pedal to the metal on Friday, and took his customized e-car for a drive in a clear sign to this hack that – contrary to the evidence that the car was an April fool's joke perpetrated on Brin by colleagues – the company has a roadmap for the auto industry that stretches far beyond self-driving cars.
The be-lashed vehicle was spotted by Forbes reporter Ryan Mac, who snapped a shot before Brin sublimed into the higher-dimensional space of pure math known as "the Plex" that Google execs are known to frequent.
When the photo appeared, we felt driven to burn rubber getting in contact with both Google and Tesla's press offices, but at the time of writing neither company had put the brakes on the speculation now rumbling through Silicon Valley.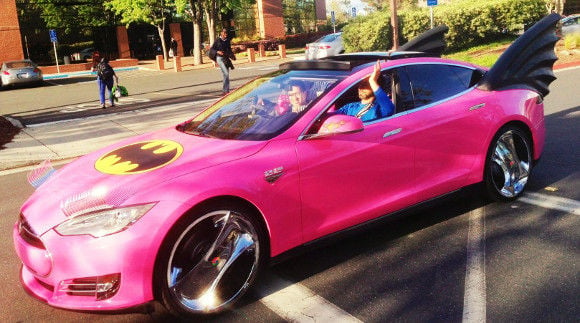 Google exec's innovative solution for 'too much cash' problem
Our take: the car shows Google has more ideas in the tank, and the ride could be just the ticket for the ad-slinger as it steers a path into other markets. Here's our quick spot analysis of what the pink ride means for Google's accelerating auto ambitions:
"Chrome" wheels: Google is working on some auto-themed skins for the web navigator.
Use of the color pink: mandated by Google PR after Brin made the "smartphones are emasculating" gaff at TED.
The Batman logo: Page runs GoogleX, the company's skunkworks research lab. You figure it out...
The wingtips: a further sign that Google is serious about taking off into the clouds
The eyelashes: next iteration of "Google Glass" will display results on nearby surfaces via fibre-optic lashes.
Though the car may drive Google into the pink, the markets didn't like its association with Tesla – the electric car–maker's shares broke down by 1.52 per cent on Friday. ®