This article is more than 1 year old
Facebook VOICE is what telco barons should fear - not a Zuckermobe
Just killed a chicken, now your profits are next... bitch
Analysis Facebook disappointed anyone expecting the unveiling of a "Facebook phone" last week - including me. But device manufacturers and mobile operators should watch their backs: it's barely the start of what the social-networking website can achieve.
As a thought experiment, put yourself in Facebook boss Mark Zuckerberg's Adidas sandals.
If you were Facebook, you'd be pretty daft to sit around watching over-the-top (OTT) instant-messaging upstarts, such as WhatsApp and Viber, snap up your users, who should otherwise be nattering away on Facebook Chat.
OTT players are companies that piggyback a telco, ISP or mobile operator's network to provide a service rivalling the underlying system. Because they use the fixed or wireless broadband connections to send and receive data via an app, OTT companies eat into the networks' lucrative voice and message offerings - but it's not necessarily a one-way street.
Like a parasite that recompenses its host in some way, OTT players who do voice chat over the internet (VoIP) often share call revenue with the mobile network actually carrying the app's data.
It's all become possible because the closed world of GSM network operators has opened a crack, allowing the OTT players to flood in. Most phone giants now see the threat, although some also see an opportunity, too.
Right. So you're Zuckerberg, and you've just strangled a chicken.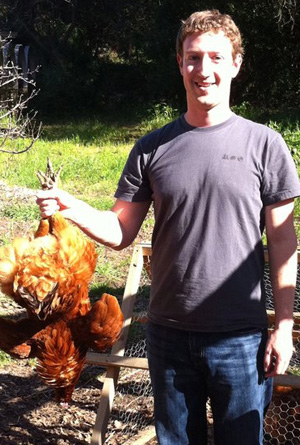 It's a chicken today - but are telcos next on the menu?
How long are you going wait for these OTT players to grow, before you act? Are you going to wait until they spread their wings and become fully fledged social networks?
We know that once a network hits a critical mass it gets pretty sticky - BBM being a great example - and hard to displace. All the time, mobile usage is increasing as a proportion of overall Facebook usage. And you make bugger all money from mobile advertising. Your revenue strategy has 2005 written all over it - and people have started to notice.
Facebook's new Android app centres around chatting - Facebook Messaging. It pushes Chat into the home screen, and if you want, over every application. So Facebook is already an OTT player. It just doesn't have a coherent revenue strategy. I believe this is a case of when, not if, Facebook will integrate VoIP into the chat app it revealed last week.
Technically and politically, turning on the Facebook Voice Network is a serious undertaking. It requires negotiation with most or all major carriers. Termination rates - the fees networks pay each other to route calls - differ around the world, so it wouldn't necessarily work everywhere. Yet the rival options are also pretty hairy.
Creating a Facebook phone by forking Android is a massive exercise, and requires diving into the scary world of hardware support and patent disputes. A Facebook phone would not be at the bleeding edge in a market that's moving at an incredible pace. The new app looks like a measured and sensible first move - but the other shoe has yet to drop.
Platform wars are such fun to write about, but today everyone seems to be writing about the wrong platform: Android. It isn't Google, the maker of Android, who should be worried by Facebook's mobile plans. It's the mobile operators.
The telcos can't afford to become dumb bit carriers, but unless they find a partnership with Zuck that offers them some advantages, they could well end up looking as happy as that there chicken. ®