This article is more than 1 year old
Pyongyang to unleash NUKULAR horsemen of the Norkocalypse?
Just how real is North Korea's missile threat?
Last week, UK prime minister David Cameron raised a few eyebrows when he insisted North Korea has the capability to launch a missile strike against the the US and the UK.
Just like Blighty was once warned of Saddam Hussein's terrifying Weapons of Mass Destruction, the PM forewarned: "North Korea does now have missile technology that is able to reach, as they put it, the whole of the United States and if they are able to reach the whole of the United States they can reach Europe too. They can reach us too, so that is a real concern."
It would be a real concern, were it in fact true. As part of increasingly vigorous sabre-rattling between Pyongyang and the west, the communist state last week moved a couple of missiles "capable of striking South Korea, Japan and US bases in the Pacific" to its eastern coast.
In a breathtaking piece of bravado, the regime declared these weapons might target Guam - a threat considered serious enough by the US administration for it to announce the fast-track deployment of its Terminal High Altitude Area Defense (THAAD) anti-missile system to the island.
However, the missiles in question - BM25 Musudans - are merely theoretically capable of hitting targets up to 3,000–4,000km away. The Musudan is a trailer-launched intermediate-range ballistic missile (IRBM) based on the Soviet R-27 Zyb.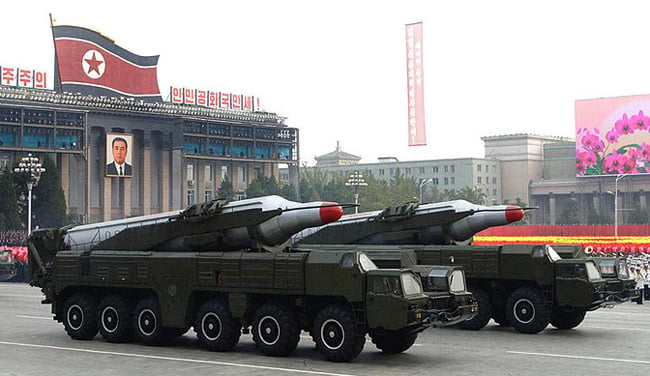 The real deal? Musudans in Pyongyang in October 2010
Musudans were paraded in Pyongyang in October 2010, although some experts suspected they were mock-ups. At that time, there was "no indication that the Musudan is operational or that it has ever been tested", and this remains the case.
If North Korea is preparing to launch a Musudan, it remains to be seen how it handles the missile's fuel cocktail of unsymmetrical dimethylhydrazine (UDMH) and inhibited red fuming nitric acid (IRFNA). At a time when other nations are turning their backs on such hypergolic blends (as we recently noted in our round-up of international launch capabilities), this is a decidedly old-school approach.
While UDMH is stable, and can be safely left in fuel tanks for extended periods, IRFNA is an altogether less friendly substance. It's commonly 84 per cent nitric acid (HNO3), 13 per cent dinitrogen tetroxide (N2O4) and a couple of per cent of water. The presence of an inhibitor such as hydrogen fluoride is required to prevent the brew eating through storage tanks.
This in itself is highly unpleasant, forming corrosive and toxic hydrofluoric acid on contact with moisture, such as that present in rocket scientists' skin.
Assuming the North Koreans have got a handle, and indeed a very tight lid, on their Musudan fuel, their track record of successful missile launches is patchy.
The workhorse of the country's missile capability is the Rodong-1 - a modified Soviet SS-1 "Scud" burning UDMH and IRFNA. The Unha series of three-stage rockets rely on four clustered Rodong-1s in their first stage, with a second stage based either on the R-27 Zyb technology (as adapted for the Musudan), or the Scud.
The third stage may use part of the Iranian Safir programme, although this is unconfirmed.
In April 2012, the Unha-3 rocket failed shortly after lift-off, although in December, the Unha-3-2 successfully put the Kwangmyŏngsŏng-3 satellite into orbit, according to North Korea.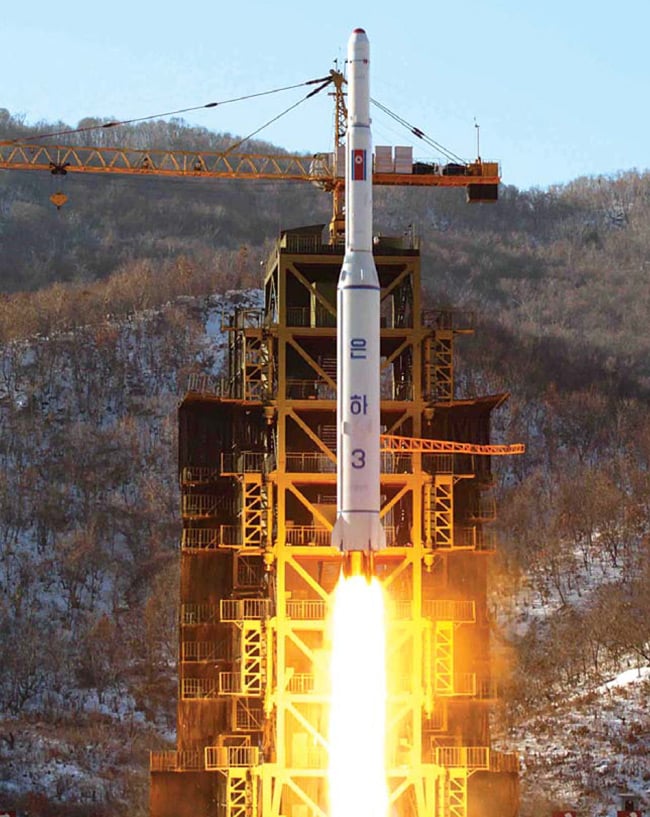 Official Nork pic: The Unha-3-2 blasts off in December 2012
While the communist regime claimed peaceful aims for the Unha, the West insists it's a front for the development of long-range ballistic missiles, in defiance of UN resolutions banning such vehicles.
The Taepodong-2 ballistic missile, which also packed a quartet of Rodong-1s in its first stage, failed on both its known test flights in 2005 and 2009.
It doesn't, then, appear that North Korean missiles will be coming soon to an airspace near you. David Wright, co-director of the Union of Concerned Scientists' Global Security Program, told Space.com last week: "If I were in South Korea and this were ratcheting up, if I were in Japan - you might worry about chemical weapons or something like that that they could put on the front of [a missile]. But once you get farther away than that, I think it's really a bluff."
Regarding the Musudan brouhaha, he noted: "There's no reason to actually consider them operational. There's no test data to say that they work. The Guam threat, to me - I think that's bluster. I don't believe that." ®