This article is more than 1 year old
Review: HP ElitePad 900 Atom tablet
'And finally, monsieur, a wafer-thin Win8 slab... sort of'
If HP's ElitePad 900 is anything to go by, not everybody expects a business Windows 8 Pro Atom tablet to be a pocketable wafer. You only have to hold it in your hand to get the impression that this model has been built for endurance rather than designed as a fashion accessory. That's not to say that it doesn't look good, quite the opposite in fact. Although perhaps that has more to do with familiarity; its aluminium casing certainly lends an Apple iPad-esque quality to the tablet.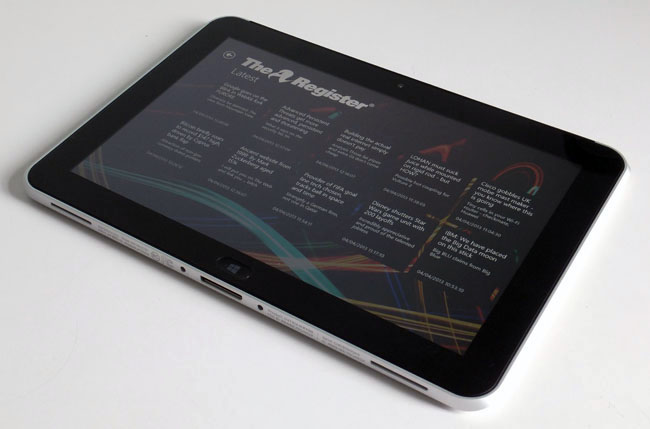 HP's ElitePad 900 comes fully laden with enterprise security apps.
Yet unlike a 3G/4G iPad's rather discreet finger of black rubber covering on the back for its antennae, HP's NFC-equipped tablet makes a meal of this, taking up nearly a quarter of casing surface. A saving on metal perhaps or just a way to keep its weight down to 630g? Maybe. Even so, the ElitePad comes across as a tad chunky despite the dimensions suggesting otherwise.
Indeed, this 10.1in tablet measures up at 281 x 178 x 9.2mm which is a shade thinner than a Retina iPad. No, this isn't going to turn into a comparison sheet, but to stick with appearances for a moment, the HP's casing is nicely curved at the back, as with some other popular designs, but the top side rather spoils this, having framed the Gorilla glass touchscreen with sharply tapering metal sides. What you get are not exactly tactile edges for holding the tablet in landscape view. They stick out about 4mm either side and contrast with the black screen borders, all of which emphasise its proportions. It doesn't seem particularly well thought out, but there is a reason for this, which I'll come to later.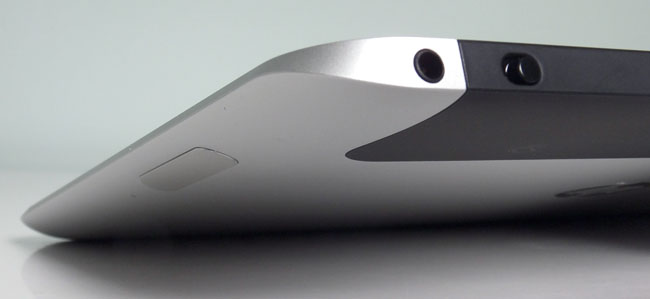 The underside cover protects the micro Sim card and micro SD slots
Inside the HP ElitePad 900 is a 1.8GHz Intel Atom Z2760 CPU, 2GB of RAM and 64GB eMMC storage – there's a 32GB model available too which is around £35 cheaper. As the Windows 8 Pro OS, rescue partition and extras swallow about 20GB of the capacity, it's just as well there's a micro SD slot under a metal cover to expand this further. And if you splash out another £50 you get a micro SIM card option too. On test is a fully loaded top-of-the-range model that'll set you back £688.
When it comes to spec, there's currently not much variation among WinPro 8 Atom tablets, so differentiation shows itself in other ways. Beyond the look and feel, it's typically the available interfacing that's the stand-out feature. HP keeps it simple with just a power button, auto rotate toggle switch, a mic/headphone socket along the top edge, and a docking connector in the base. The up/down volume button is positioned on the curved area on the back, within easy reach of fingers when clasped for landscape viewing. Its position is mirrored by the SIM/storage slot that needs a prod from a paperclip to snap open.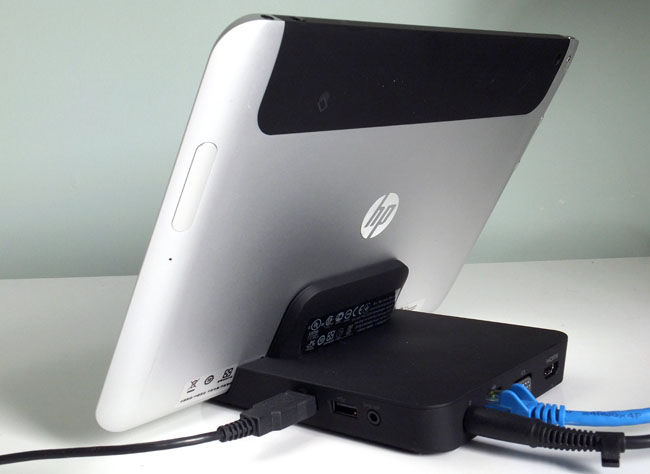 The docking cradle adds four USB ports and then some
So, no pen tucked away underneath - or in the box either. No, that's an optional extra, but if you're looking to kit out your tablet with whatever it takes to turn it into a desktop PC, then HP has accessories aplenty for you. I'm typing this out with a wired keyboard plumbed into the ElitePad Docking station. It's a deliberately weighty cradle that delivers four USB ports, 100Mbps Ethernet, HDMI, VGA and stereo line out audio interfacing. Being a paperweight dock (rather than a mere stand) does mean it's fixed in landscape mode, when portrait would work well when writing documents. Still, it's a netbook evolution of sorts and when it comes to running Office 365 and hammering out text on Word, the ElitePad handles it briskly, with no latency if you save locally. Using the SkyDrive to save documents to the MS cloud service did give it a momentary "not responding" seizure at first, but a few seconds later it regained its composure and got on with things.
The only obvious quirk with the dock, however, is that the viewing angle is fixed - and given the notion of flexibility is much the point with a fondleslab, this does niggle a bit.