Review: HP ElitePad 900 Atom tablet
'And finally, monsieur, a wafer-thin Win8 slab... sort of'
Code worrier
I spent a fair amount of time trying to get the 3G connectivity to work as the HSDPA+ modem had decided to throw a Code 10 error and wouldn't run. Having gone through the various disable/enable and driver reinstall options, I noticed that the Device Manager showed it as working normally when attached to the dock. So I fired up the connection to Three mobile broadband and hey presto, it's online. Now would it continue to work if I detached it from the dock? Indeed it has, and has remained stable over numerous restarts too. Microsoft states that Code 10 errors have frequently been reported as USB issues and this internal modem is connected that way. Perhaps the dock and its proliferation of ports refreshed the bus when they become active and woke the modem up.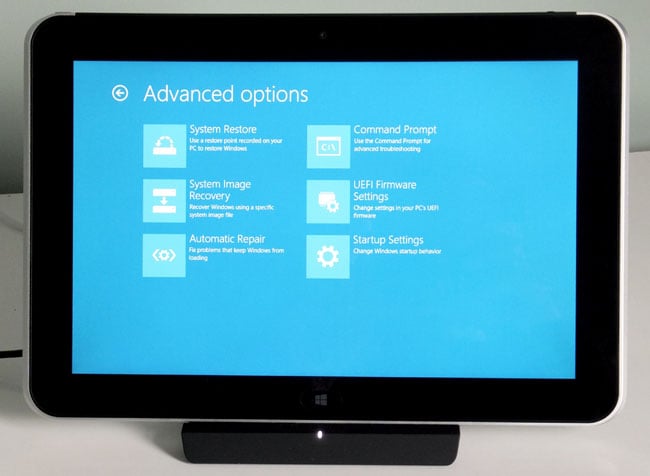 Fondle the TIFKAM PC Settings and a reboot will offer Advanced options
Apparently, USB port assignments can also affect external booting and despite my best efforts trying all four ports, the ElitePad 900 didn't want to play with a Pendrive Linux install of Ubuntu 12.10. Rebooting from PC Settings > General > Advanced brings up UEFI options. With the USB stick in the dock the screen would show Ethernet IPv4 or IPv6 choices. This would lead to Start PXE over IP... As there was no network drive, it gave up after nearly a minute and booted into Win8.
What was going on here? Well, with Windows 8 being a schizoid OS, HP's BIOS configuration tool doesn't show itself unless you're nosing around the Desktop Mode control panel. Here, you can enable/disable USB and Ethernet booting. However, killing off Ethernet booting made no difference to the outcome.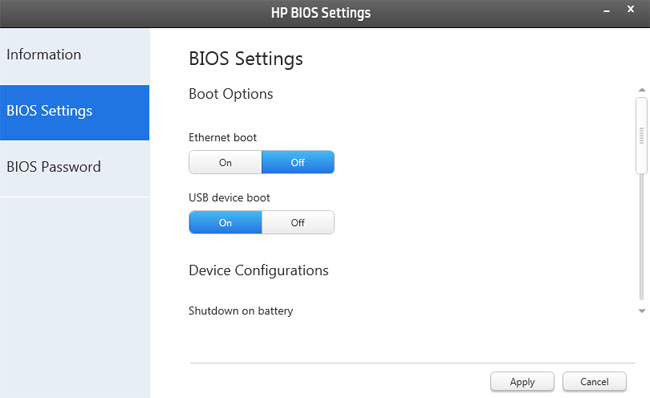 Meanwhile back in Desktop Mode, you'll find HP's BIOS control panel
I tried again with the docking Expansion Jacket which features two USB ports and HDMI for £78. Initially, this seemed more promising, bringing up a diagnostic screen but, alas, failing to run from the external drive. You might think it's Secure Boot at play, but the system info reports that it is inactive. So either the "raw" tablet has issues fully communicating with peripherals for booting or there could be some other cleverness at work that's part of the HP Client Security package installed on the device, but it didn't appear so from the device permissions listing.
And then I had the idea to use the micro SD slot, as it's internal and the ElitePad wouldn't be relying on any accessory adapters. And that's when I discovered the SD card driver was showing a Code 10 error which didn't want to go away, despite all the usual encouragement. Alas, the card wouldn't mount, nor would others I tried. I even did a wipe and clean instal on the tablet, and the micro SD card slot still produced an error. A dodgy ElitePad... or is the ElitePad dodgy? The jury's out on that one for now.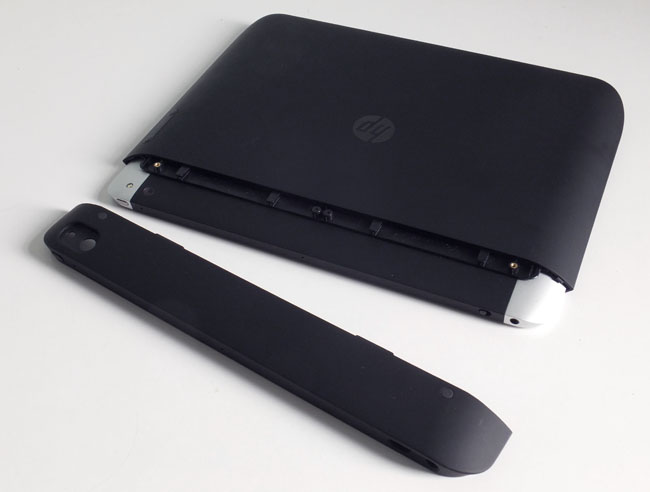 With the battery onboard too, the Expansion Jacket adds weight and bulk that can soon cause fatigue.
Some fixings for a shoulder strap would be a welcome addition.
A word on the Expansion Jacket. Remember those sharpish metal edges? Well, their shape neatly slots into the guides in the Expansion Jacket so you get a very snug fit. A separate section clips over the top where the antennas are situated, so they don't get shielded by the top-up battery (sold separately for another £78) that fits in the main body of the external case. It's made of pretty tough plastic with a soft-touch shell and, together with the Gorilla glass screen, suggests HP is looking to make an impression as a tough-tablet maker, which certain enterprise field divisions are embracing.
Even without the jacket, those meaty edges should afford the tablet some protection. Bash a corner on an iPad 2 and the dented metal can prise up the screen. How do I know this? No prizes for guessing.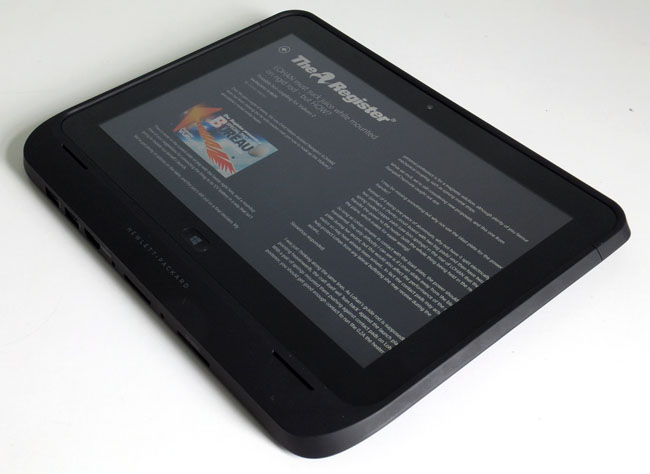 From the front the Expansion Jacket looks neat and adds protection as well as ports
The software on the HP ElitePad 900 is an odd mix of practical apps and more consumer-centric offerings. For instance, Cyberlink's YouCam, with its live photoframe and image-enhancing features, seems more likely to appeal to teenagers, rather than business road warriors. That said, its TrueTheaterLighting function adds a useful, if slightly unsubtle boost to dimly lit webcam sessions. There's a 2Mp front-facing and 8Mp rear camera to play with, which give decent enough results for stills and up to 1080p video. Cyberlink's MediaSuite also provides touchscreen-friendly media navigation and basic photo editing.