Windows XP support ends a year from … now!
Official support ends April 7th, 2014, zombie support available at huge price
---
Windows XP, we hardly knew ye! Yet by this time next year, the adolescent operating system will be headed for the big Recycle Bin in the sky, thanks to Microsoft's planned obsolescence policy and the inevitable march of progress.
Introduced in 2001, XP was a big hit. But Microsoft will end support for XP on April 7th, 2014. That won't be the very end, however, as analyst firm Gartner says if you're happy to pay between $US200,000 and $500,000 a year for custom support Redmond will ensure XP has a pulse. Gartner does warn, however, that custom support "can as much as double [in price] from year to year as the product moves further away from the end of support."
Which sounds like death for all but the deepest-pocketed and locked-in users, leaving the rest of us to move on from an operating system that was, at the time of its release was, fast and stable thanks to its roots in Windows NT, rather than the Windows 95 code base.
As we noted in a XP's two-years-until-deathday piece last year, the OS now seems comically under-powered. "Processors with clock speeds of 233Mhz were supported, but you really needed 300Mhz to make XP sing," we wrote. "Disk drives greater than 137GB were frowned upon. USB 2.0 support only arrived with Service Pack 1 a year after launch."
XP's solid performance and pretty refresh of the Windows 95 GUI meant it was well-received … until it became apparent that Internet Explorer's tight binding to the operating system left it open to myriad attacks.
Microsoft, to its credit, eventually recognised that IE 6 was a very ordinary piece of software and by 2002 launched a "trustworthy computing" initiative that saw it reform the way it created products in order to make them more secure. That effort continues to this day, as do Microsoft's attempts to remind the world of IE 6's less-than-stellar security and compliance with web standards.
By the time XP's third service pack appeared, in 2008, XP was a stable, secure and reasonably slick OS capable of doing almost anything the average knowledge worker required during a working day. It was also better-suited to the emerging wave of netbooks than its successor, Windows Vista, and so enjoyed a short resurgence.
In early 2008, NetMarketShare reported XP owned 83 per cent of the market. Later in that year, StatCounter's data reports it's market share, at least as a driver of web traffic, peaked at a very respectable 76.89 per cent.
Today things are rather worse. Here's NetMarketShare's view of XP's fortunes over time.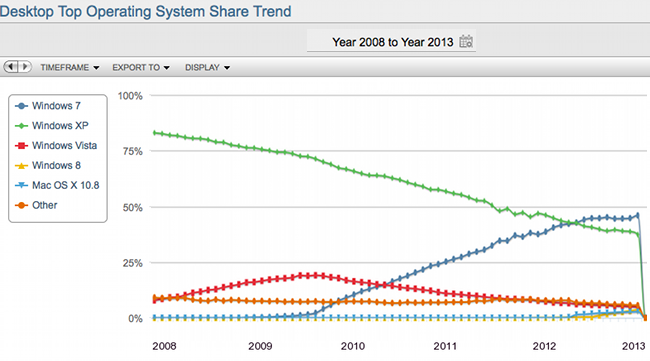 And here's StatCounter's history lesson.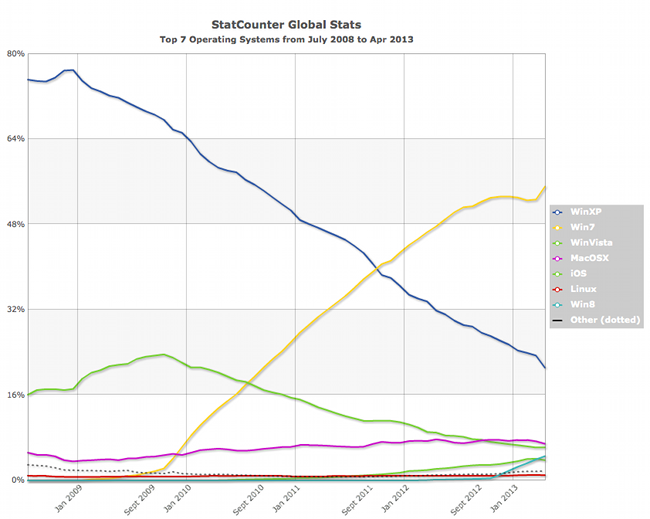 Source: StatCounter Global Stats - Operating System Market Share
NetMarketShare's 37 per cent market share data means there are still many, many millions of XP desktops out there.
One can therefore expect the next year should feature a great many upgrade projects.
Analysts recommend you get on with such projects.
Forrester principal analyst John Brand says you need to do so because "Our relationship with technology is evolving rapidly - largely as a result of the technology becoming much smarter with a greater focus on location and context to create compelling user experiences."
XP can't deliver those experiences, he says, and "organisations now need to act swiftly to ensure they can implement a platform for enterprise computing able to support their business and users' needs well into the coming decade."
Gartner's advising users to get busy and make XP-to-Windows 7 migration projects a priority. In an August 2012 publication titled Strategically Target Time Spent on Windows 8 Until Windows XP Is Eliminated the analyst firm argues that "Most organizations do not start mainstream deployment of a new OS until two years after it ships, as they need 12 to 18 months to test, plan, and pilot."
"Plan to eliminate Windows XP by April 2014," the paper continues. "To do so, most organizations should continue deploying Windows 7 so they will be standardized on a version of Windows that will have a larger installed base and better third-party support than Windows Vista or Windows 8."
The thrust of another of the firm's publications, Office 2013 Advances Office, but Should Not Divert Attention From Migrations Off Windows XP, is evident in its title. The document says Office 2013 is worthy, but not so worthy that a team with a choice between an Office implementation and XP migration would chose the former.
Do let us know if you're working on, or planning, a migration from XP, by dropping us a line here. ®
Bootnote
While the desktop version of XP has less than a year to live, at least in terms of support, XP embedded support runs until April 2016. Reg readers running devices that, like EMC's Clariion arrays, use XP embedded can panic about their desktops first and get ready for another panic later.