Android FOUND ON TABLETS inscribed with WORD OF GOD
O come all ye fondlers, joyful and triumphant
A church has handed out tablets instead of hymn books - but not stone ones etched with the 10 commandments: these are Android fondleslabs whose pinch-to-zoom feature is a godsend for elderly parishioners, we're told.
The first tab-equipped Church of England congregation at St John's Church in Mickleover, near Derby, clutched Archos tablets as backups for the church's existing projection screens, allowing the most myopic of Christians to follow the service and sing along during the important bits.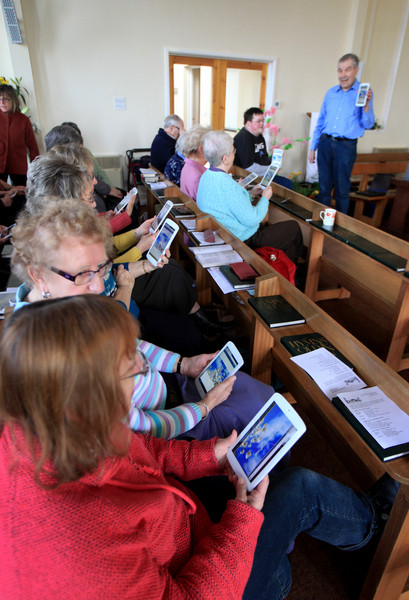 We can't help but notice they have hardcopy backups to hand.
The Wi-Fi capability of the tablets takes centre stage as the tablets were provided by The Cloud - a BSkyB company always quick to spot a PR opportunity - but as the content was web-based any old fondleslab would have done.
Indeed, in a statement, the church told us "a couple of members of the congregation have used their own devices during Sunday service before", generously assuming they were using them to follow the service, rather than seeking alternative entertainment.
Connected by simple desktop sharing software, the tablets follow the service on the main screen in real time, allowing users to enlarge the font for everything from hymns to chapters of the Bible.
Originally the church installed The Cloud's Wi-Fi for its on-site internet cafe. The cloudy company later donated a handful of tablets for the use of parishioners.
Doctor Who fans will know there's already something hiding in the Wi-Fi, waiting to suck out one's soul at a moment's notice, but it would be truly ironic if it turned out to be God's hiding place rather than Richard E. Grant's.
Hymn books are notoriously hard to read. In earlier times one might have relied on rote-learning hymns, but waning piety makes printed guides more important than ever, and pinch-to-zoom a valuable addition for those eager to better embrace the Lord's teachings - as well as those just trying to work out how much longer till they can get to the pub. ®