Fusion-io has fattened up its ioFX card that plugs flash storage into a workstation's PCIe bus: performance, we're told, is up fourfold and capacity is up from 420GB to 1.6TB.
The technology allows processors to access data at flash speeds, which is very much faster than disk transfer rates. Lower-capacity cards typically act as caches for disk-based data whereas larger-capacity cards can hold an application's working set of data.
In capacity terms, this Fusion-io boost is dwarfed by Violin Memory's Velocity PCIe flash cards which store between 1.37TB and 11TB of data. Fusion said its cards can use its cut-through software which allows programs to directly map and access the flash storage chips, rather than go through the operating system's layers; applications such as video editing, CAD, 4K and stereoscopic production, and digital intermediate finish faster.
For working sets of data in excess of 1.6TB Fusion said the bigger ioFX is still useful as a caching device for large working sets of data.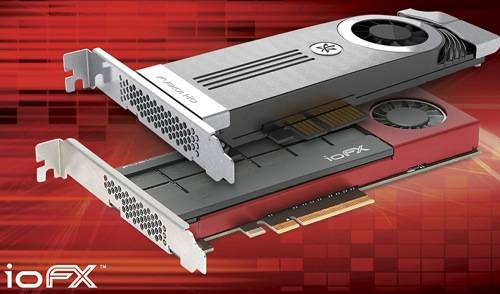 Fusion-io ioFX cards with 1.6TB one above the 420GB product.
It also says it's worked "with the industry's leading entertainment hardware and software providers [such as Nvidia and The Foundry] to optimise the ioFX for visual effects production".
HP will integrate the ioFX into its Z820, Z620 and Z420 workstations. These hot boxes are aimed at professional artists in visual effects, upstream exploration of oil and gas, and CAD.
The ioFX can be bought and added to an existing HP workstation. The 1.6TB Fusion ioFX will be available in summer 2013 and pricing will be revealed then. The 420GB ioFX is available now from Fusion-io and its resellers for a list price of $1,995. You can see the ioFX at Fusion and HP stands at the NAB 2013 show in Las Vegas this week. ®